Bank holiday weekend, the very early morning dash to the airport, guide books from the library, a purse full of euros…hello gay Paris!
After bumbling our way through the RER train and metro network, with a little non-verbal and nonplussed help from a local to break through the gate between the two to transfer transport, we made it to our home base merely a block from Pigalle Metro.
Hotel Royal Fromentin is right near the corner of Boulevard de Clichy and its various dazzling delights advertised in raging neon and with nothing really left to the imagination. If I hadn't noticed before day one, by the time we were leaving there was no mistake we were smack bang in the middle of the red light district, as you are also within a block of the Moulin Rouge. The lady with the mostly-but-not-really-covering-anything clothing casually posed on our corner at 4pm on a Monday gave the game away well and truly.
It can hardly be ironic that our excellent room, with wonderfully hot and forceful shower, very comfortable bed and loads of space, with bay doors and windows opening to a tiny balcony, tiny but unique to our room alone, had sweeping views up the Butte Montmarte to the Sacre Coeur. Its purity and innocent white facade glowing under night lights to try and ward off the shadows of the seedy side of town huddled below its magnificent dome.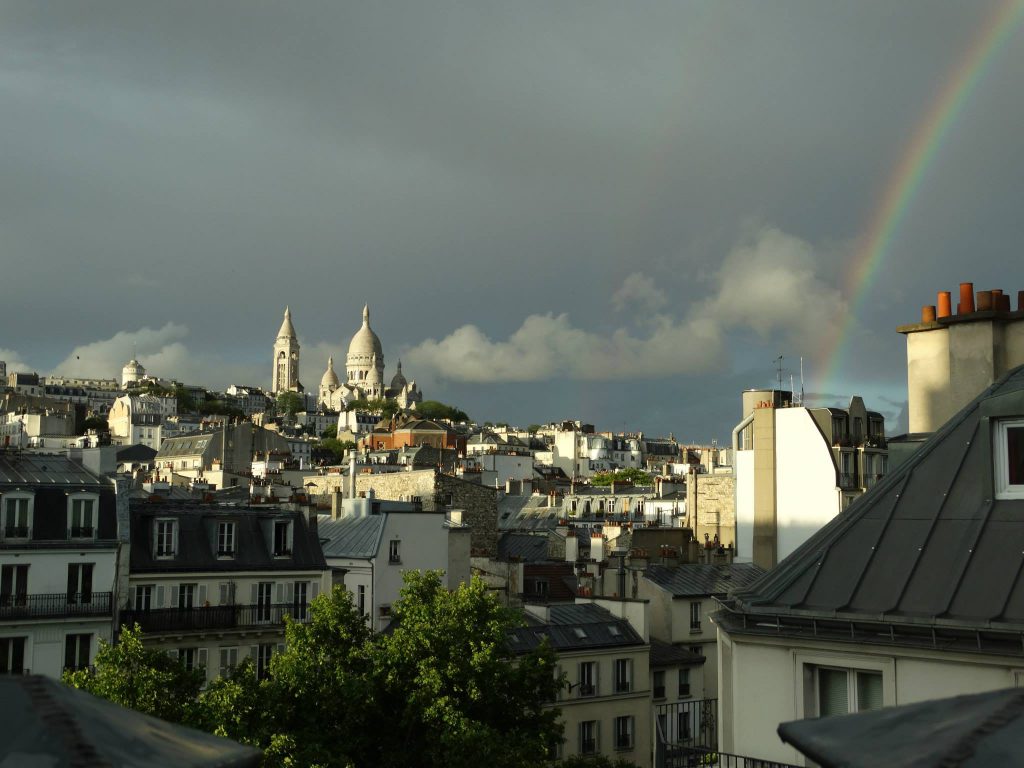 We may have been in the dodgiest part of town, but we in fact liked it – the hotel breakfast was excellent, the original lift worked its way up through the centre of the spiral staircase (handy for us on the 6th floor), complete with the manually operated cage doors and see-through inner shutters and the handy location for our tourist bus and metro meant we could get around easily and still enjoy a giggle admiring the proclamations of the various sex shops.
Armed with camera, new all-terrain Karrimor sandals which were a slight step up from the usual backpacker Keens for style and our bus passes we started the loops of the L'Open Tour tourist bus to hop on and off at leisure and try to make the most of the daylight hours we had left before we crashed and burned.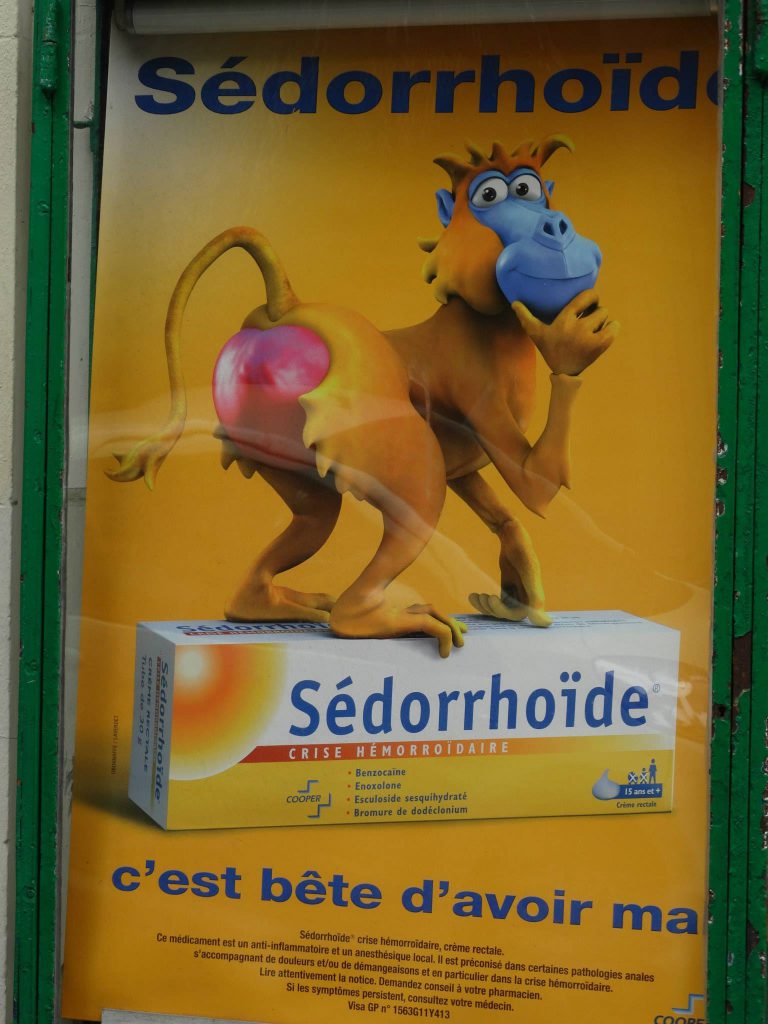 All things considered we did ok with the weather, Sunday giving us her best with enough heat and sunshine to make me remove my cardigan – a very rare occurrence – and the need to hoist umbrellas as we stubbornly sat in the open air top deck of the bus was minimal to be fair. Not fair was the fizziness of my hair due to said rain and humidity.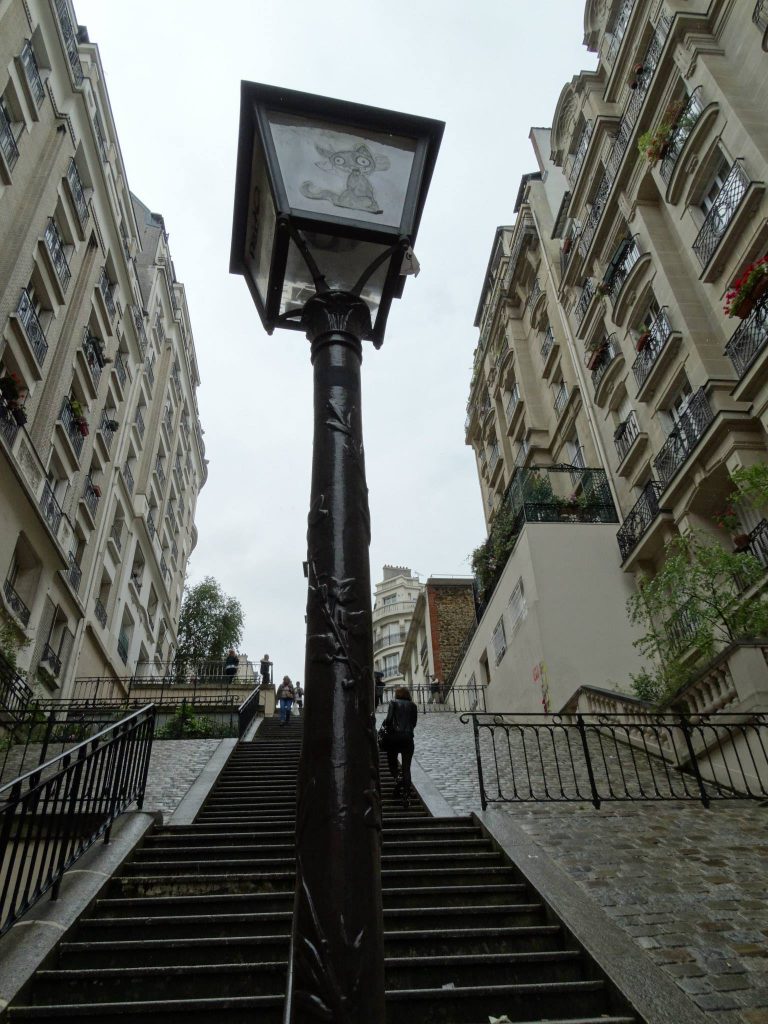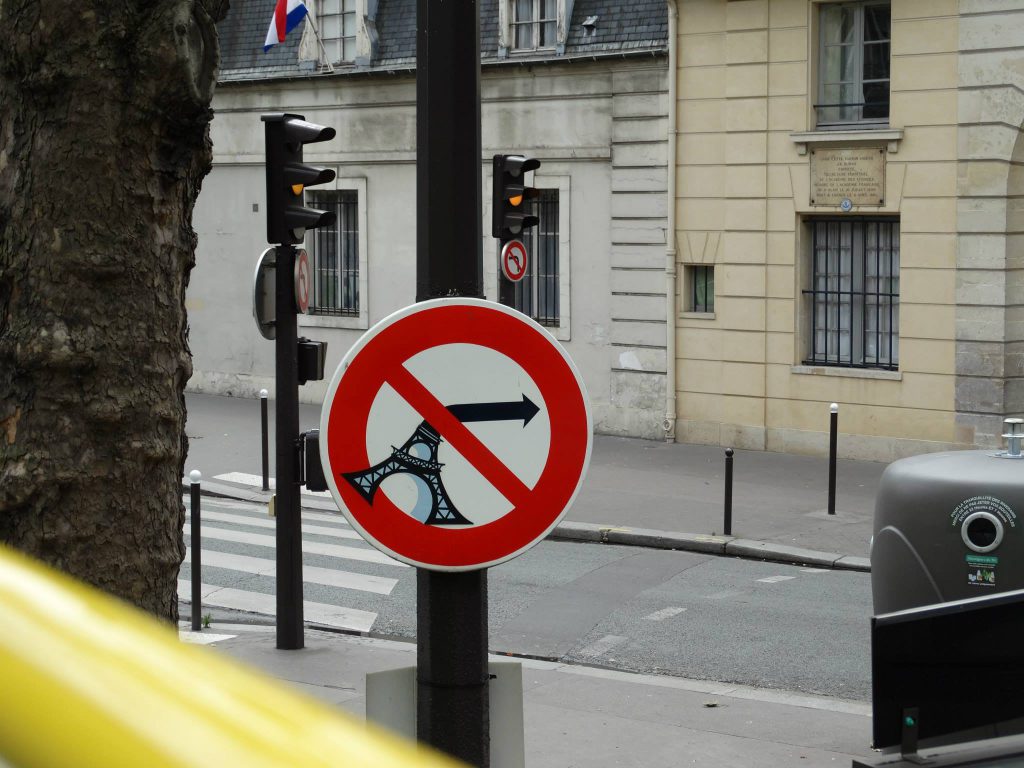 Our first night was enjoyed indoors watching the lights illuminate Sacre Coeur and the sun go down while Athletico Madrid threw away the Europa Champions League title. In between making sandwiches for tomorrow, we enjoyed a Beaujolais with camembert, soft blue cheese, ham, chicken, cous cous and pasta salad.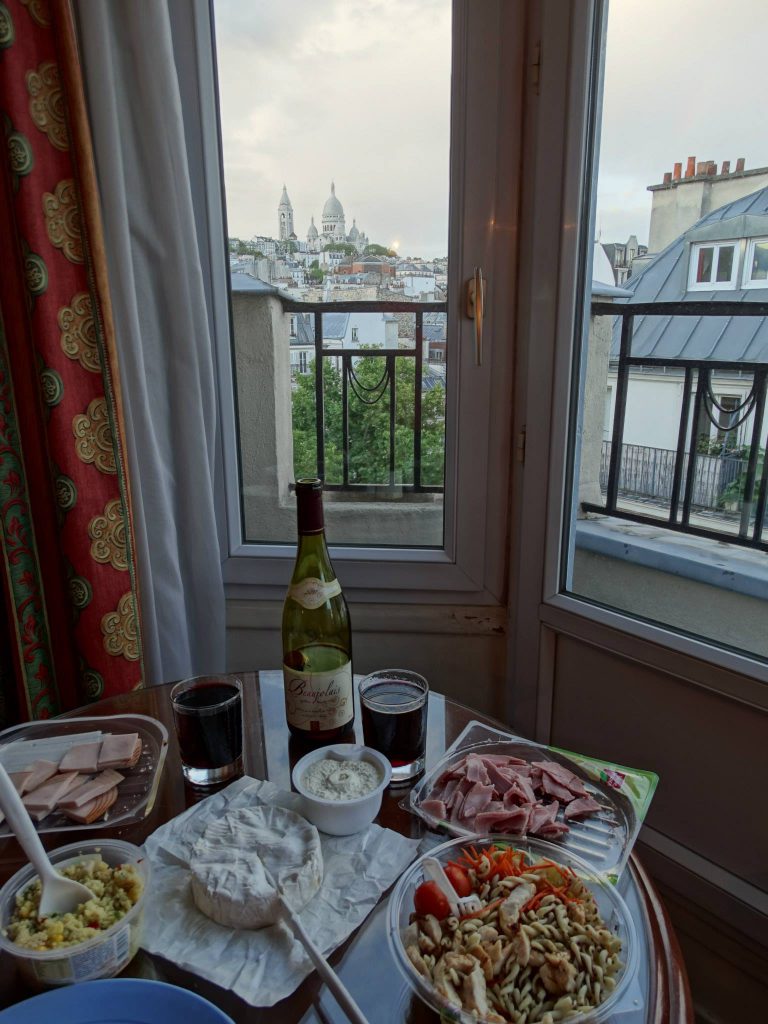 Breakfasts were croissants, mini baguettes, more rolls, cereals, spreads and cheese washed down with coffee and hot chocolate – perfect for dunking your croissant. Another plus for the hotel. We kept back a roll with jam for smoko.
While we bussed our way around the majority of the major sights, we were never going to have the time to do much properly so in the end we managed to spend just over two hours making our way from the end of the queue to the top of the Eiffel Tower and back down, the diversity of languages spoken by our fellow tourists was impressive. I even got to use one of the street-side, self-cleaning toilettes while waiting and also the loo at the top…if only there was a window it truly would have been a loo with a view! As someone who seems to spend an inordinate amount of time relieving myself, I have to admit to being as marveled by presence of flushing, clean loos at the top of that metal monument as I was by Julie's bravery to step out near the edge for a photo, visibly going against every fibre of her being. I'm proud of you babe 😉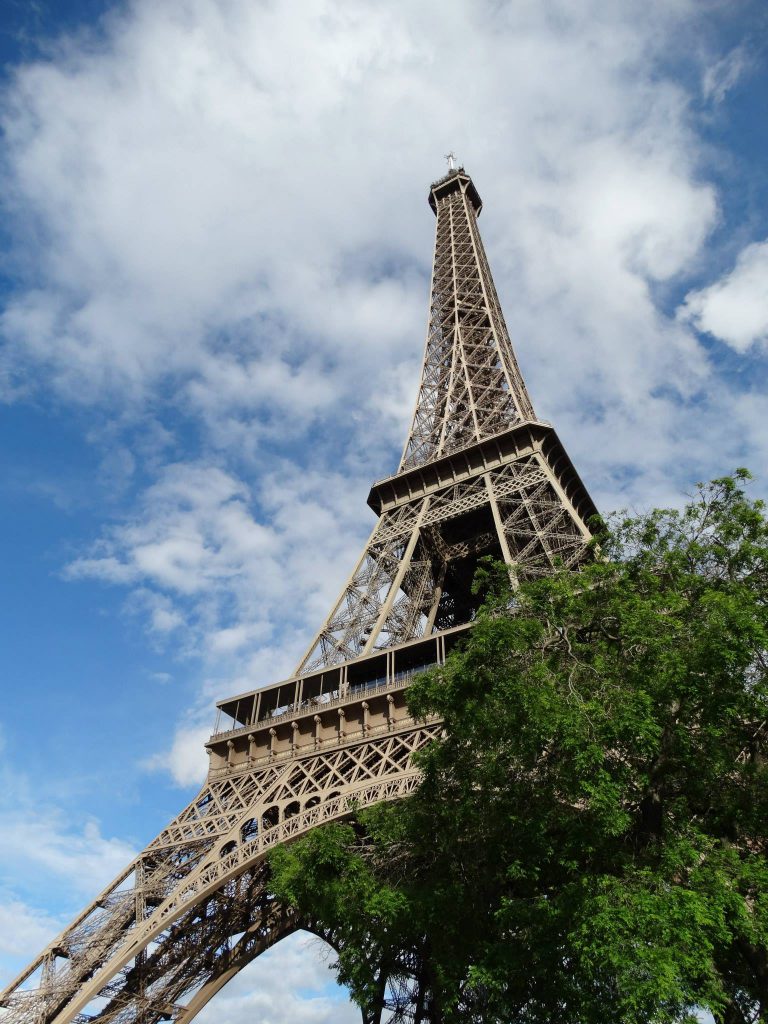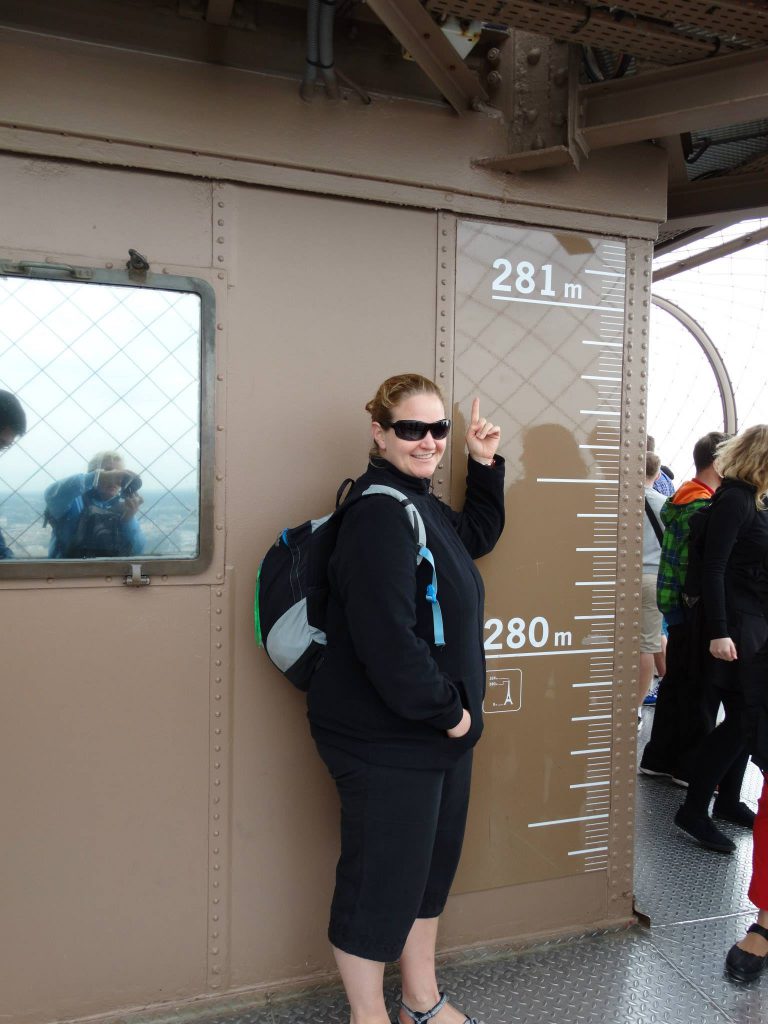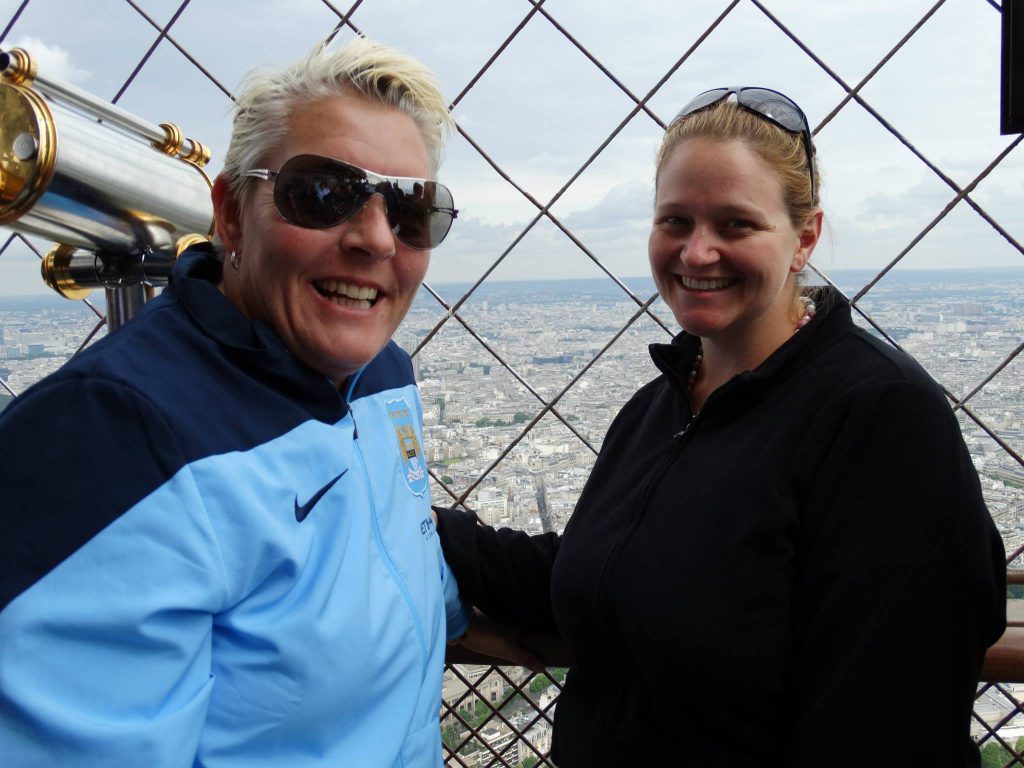 I must confess to tears when I first saw the outside of the Louvre. The tourist bus comes upon it after squeezing through the archways and then there you are. There have been a few instances when I realise I'm living an exact moment I've dreamed of for so long. My first sightings of the Grand Canyon, Iguassu Falls and Brisbane when I returned home – there's nothing close to that mixed feeling of awe, wonder, relief, gratitude and sense of privilege. Even though we are saving the inside to explore fully on a winter weekend away from the crowds, to behold the beauty and reality of a place I've known about for so long, was deeply moving.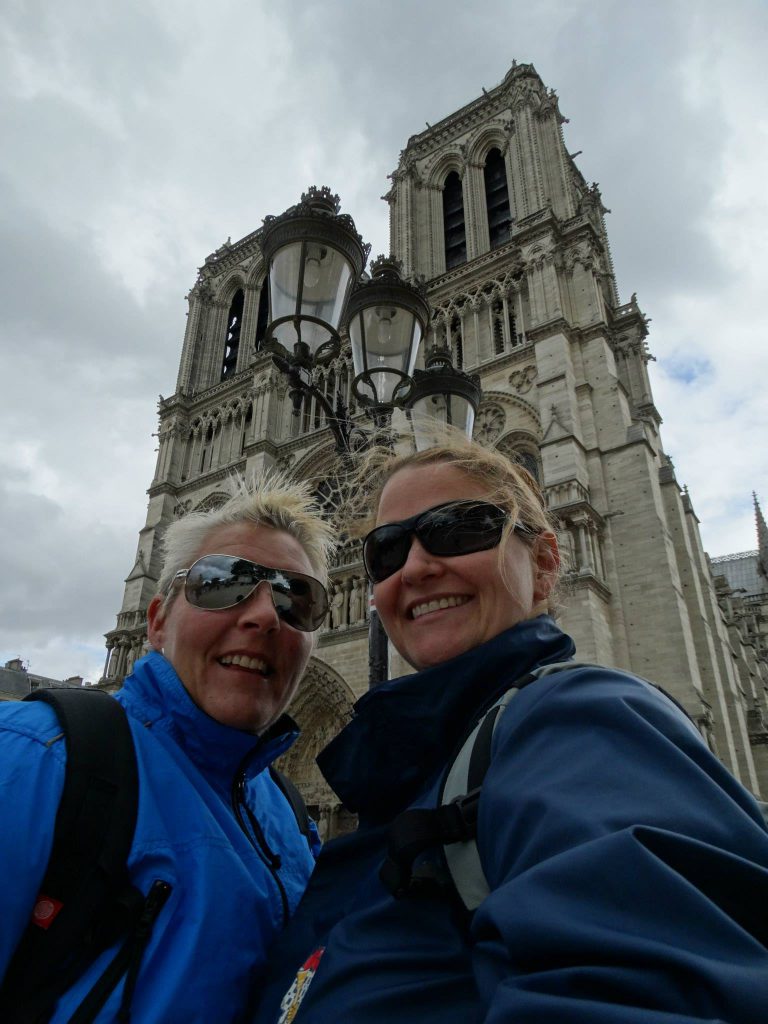 A boat trip on the Seine starting at the foot of Notre Dame Cathedral took us past the Musee d'Orsay and the entrance to the canal up to the Place de la Bastille before dropping us at the impressively statued Pont Alexandre III. Impressive enough to host no less than four wedding couples for their photos. Coincidentally, I also came across a bride while waiting for the street-side loo…guess everyone has to pee sometime.
After a wait at the bus stop on the Champs Elysses, we took a whirl around the roundabout of the Arc de Triomphe – is it true that as soon as you enter that roundabout in a rental car, there is no insurance company in the world that will cover you? Urban myth or not, it would seem like a sensible clause to include.
Dinner on Sunday night held true to the guide book warnings – the closer a restaurant is to a major attraction, the worse the food. While my steak and French fries following a tasty French Onion soup was actually quite nice, as was Julie's smoked salmon salad to start, her chicken main was woeful. I pushed it with a serve of Grand Marnier crepes and a cocktail of champagne, Campari and grenadine but with the final bill around €80, it did put a dampener on the evening when we had to push to even get our change back. Oh well, live and learn.
A much more relaxing Monday gave us a chance to explore the Montmarte area and take the little tourist train up to Sacre Coeur and enjoy views as far as possible through the drizzling rain. The commentary, while short and sweet threw up names I recalled from design college and my art classes at school like Toulouse Lautrec and Van Gogh etc. The markets at the top were buzzing and it was brilliant to sit over a coffee on the footpath and watch them all go by…equally awesome was being grateful to not be the school teacher corralling a considerably large group of tweens – even with their glaring hi-vis vests it was akin to herding cats.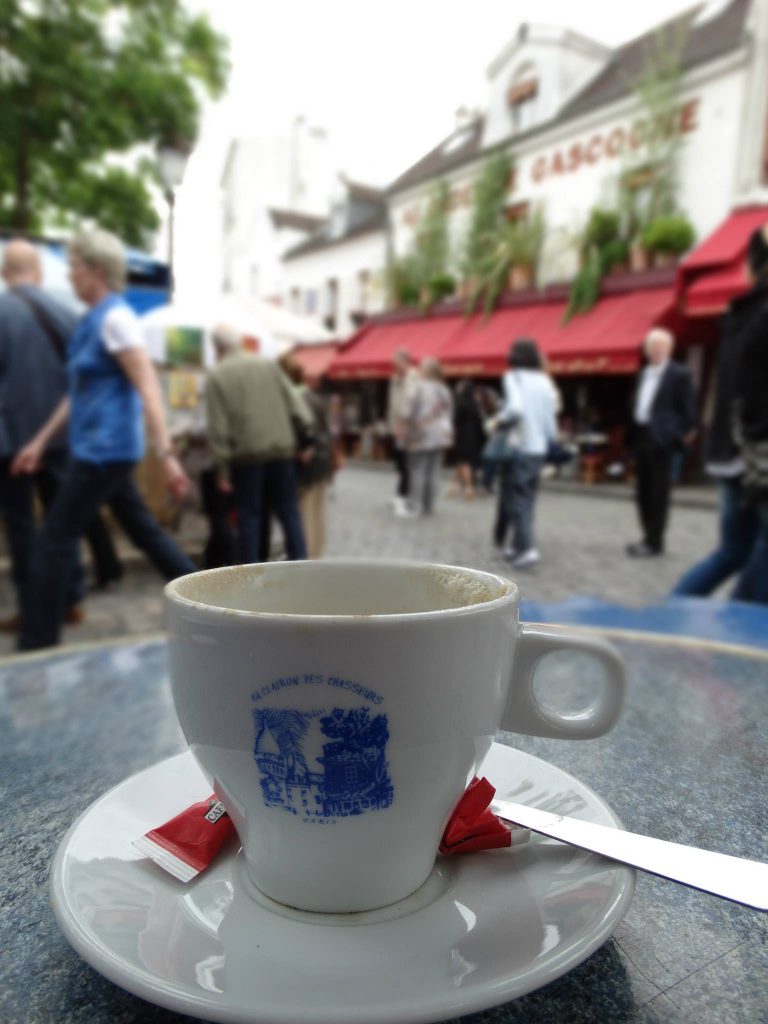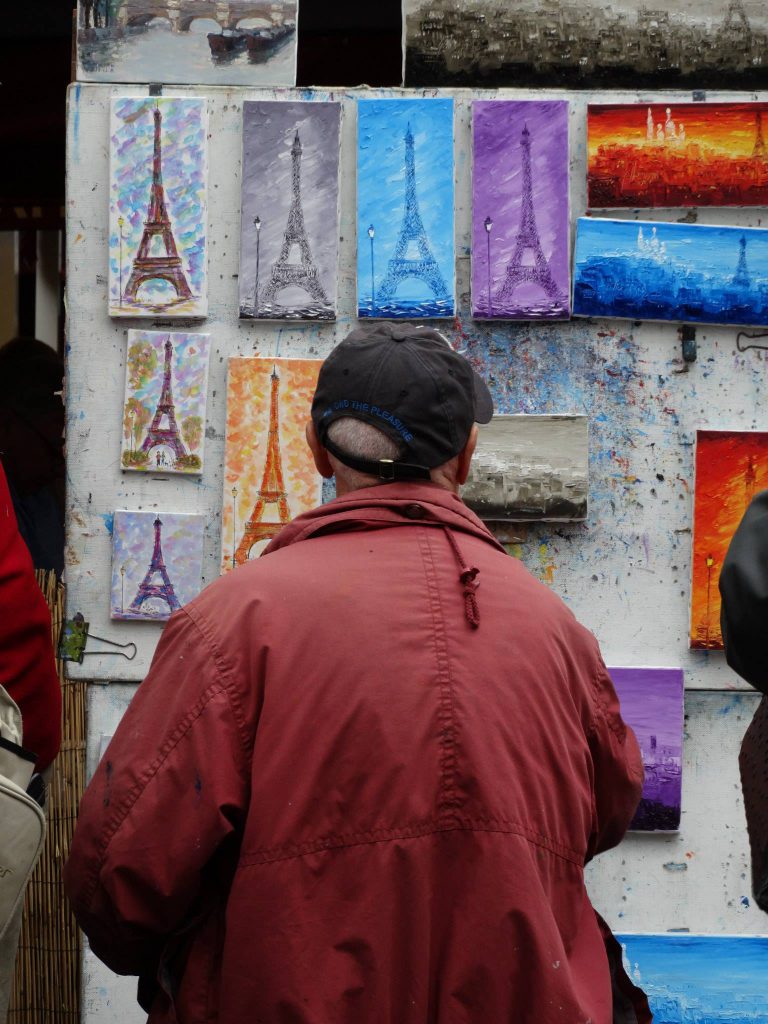 Craving something other than bread we meandered around the small streets behind Blvd. de Clichy, winding up at Abbesses, a tiny little square, near an old abbey, with a tiny garden surrounding a wall with a tile mural in blue with white writing in every language claiming "I Love You". A tranquil oasis in the city of light…and a million tourists. Even more sublime was the eatery we found for lunch, La Cambodge – south east Asian dishes and my beef with mushrooms and coconut milk on a bed of sticky rice was amazing. We will definitely be writing a TripAdvisor review on that one!
The return home was easier than making our way in only a few days before. As we gear up for our next adventure to Greece soon, I'm already dreaming of going back and realising another major bucket list tick – Versailles 😉