Taking advantage of the great summer, we hopped over to Berlin for a long weekend taking in the views from aboard bicycles and atop double-decker buses.I love how living here means we can 'hop over' to Europe. Still a thrill for this antipodean 😉
We had each bought a Berlin Pass which was handy for helping to know what to see and giving us discounts. Who doesn't like a discount? I would have happily exchanged the discount for a sense of direction though. I was given the task of map reader and 94% of the time if I set off in one direction, we were probably meant to be going the opposite way. Still, the other three just turned around with me and didn't take the map from my hands.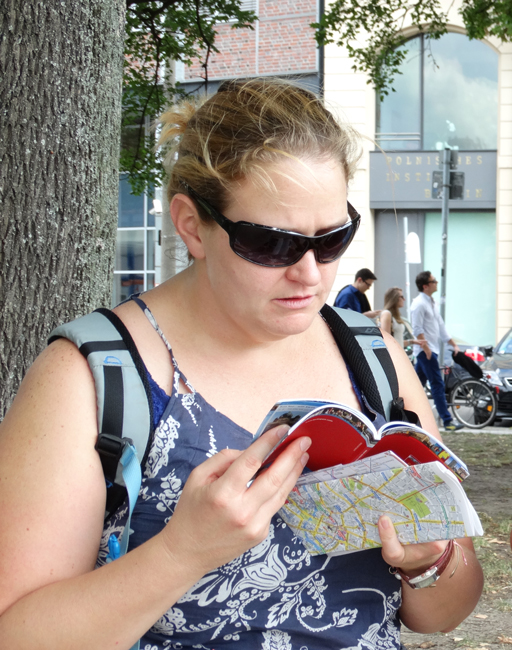 We stepped out towards the River Spree to take a boat trip and see the impressive buildings from the water…and fall asleep in the warm sunshine. It had been a very early start after all and we had partaken of a refreshing German brew before boarding in deck chairs on the lawn of an outdoor eatery. Love a summer's day in Europe!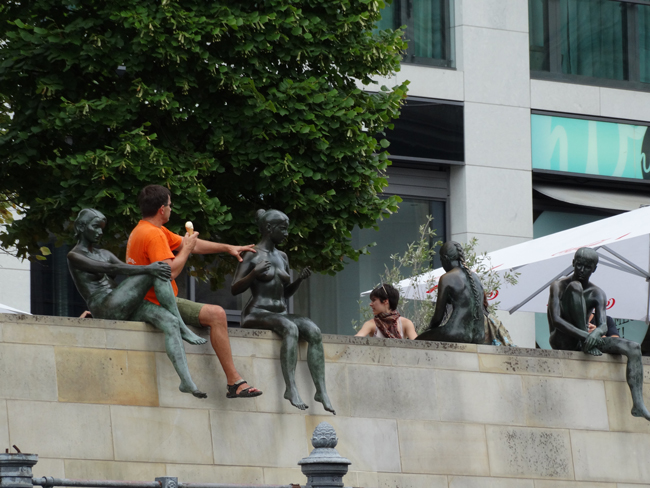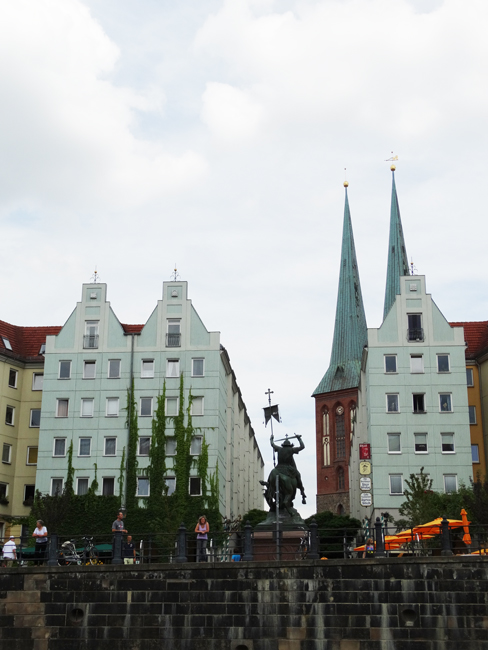 Berlin is beautiful, considering it's history. Architecture is very interesting, the people are friendly and the beer is liquid gold, especially on a hot day. A great way to take in many sites is on a bicycle tour, and the Fat Bike Tour in Berlin started something of a tradition for our future city breaks, sightseeing on two wheels under our own steam.
Despite a torrential downpour just as we had set off, we dried out during the rest of the ride. Berlin is a city made for bicycles which was comforting and we really enjoyed the activity – great way to counteract the tiredness after a 2am wake up to get the flight and before we could check into our hotel. Craig the guide was well versed in the history of each location and stopped often enough to make sure we were all keeping up.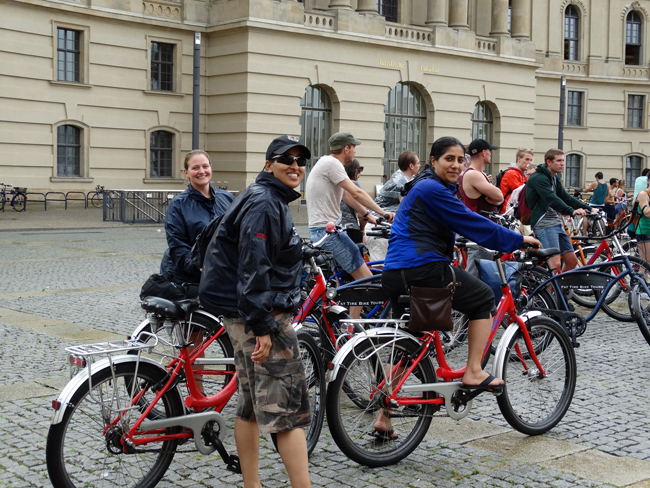 As our first extensive foray into the city, it whet our appetites for key sights we wanted to return to with more time. Checkpoint Charlie and Museum (we went back later to check it out further – loads of artifacts), the Brandenburg Gate, the Berlin Wall, Hitler's Bunker…well the carpark on top of it anyway, one of the last remaining Watchtowers in no-man's-land, the Luftwaffe Ministry building, the golden Victory Column, the Bebelplatz – site of the Nazi book burning in 1933, Museum Island, HQ for the Gestapo – now an absorbing museum, the staggering Holocaust Memorial and the Reichstag where Julie was annihilated by vicious biting insects…more on that later. Lunch was in a lovely spot at a beer garden in the heart of the Tiergarten and next to a fence with the Berlin Zoo. Hopefully the wurst wasn't made from the slow learners. Berlin is flat as a pancake so the cycling wasn't difficult, though I'll always prefer the wide paths through the park and quieter streets to the city streets battling traffic.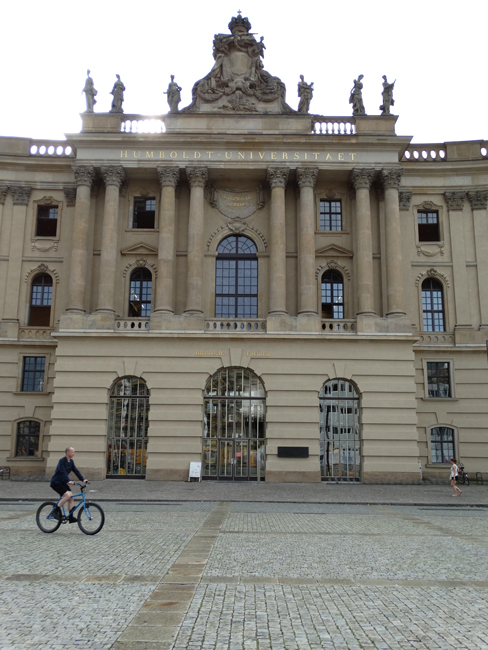 Above: Outside the university where they burned books.
Below: The Berlin Wall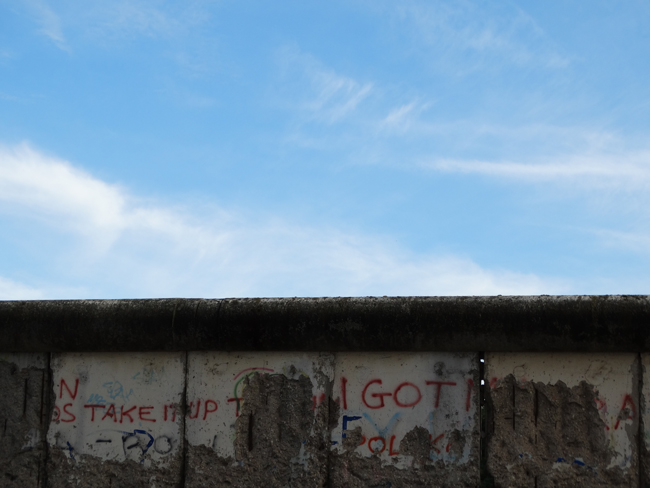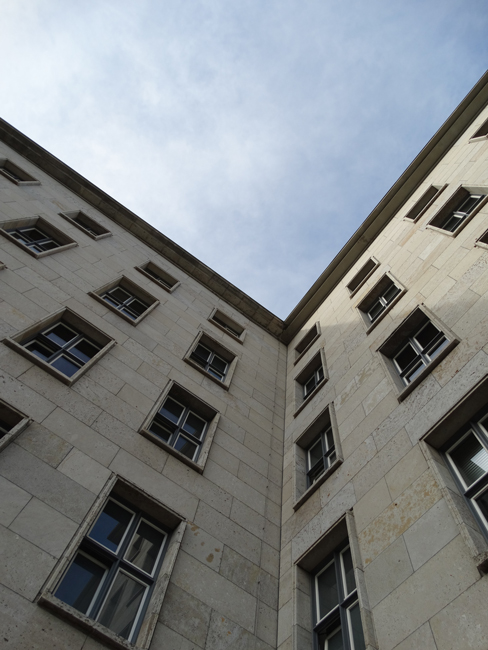 Above: Luftwaffe Ministry building.
Below: Nazi Watchtower in "no-man's-land".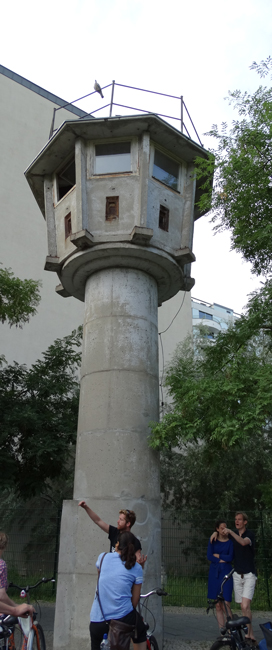 The former Gestapo HQ is now the Topography of Terror Museum – an excellent history lesson with easily understood sections that weave all the events together to try and make sense of it all. It's a quiet building even with lots of visitors and maintains a somber mood. We spent a lot of time here, and also touring the outdoor exhibit chronicling the Warsaw Uprising, housed under remains of the Wall. It was a better educational experience than anything I remember from school and had extra information that I wasn't aware of previously, I wonder if they sanitise for school. Very well done and worth a visit if you're ever in town.
A highlight that wasn't focused on war was the Neues Museum on Museum Island. We saved visiting for our last day, expressly to see Nefertiti in the Egyptian Museum and Papyrus Collection. We went through all levels and learned about pre-historic times and classical antiquities from all over the world. The restored rooms and halls are stunning and really give it character. Pro tip: We had a Museum Pass so skipped the line, saving us an estimated 4hrs waiting!
Below: Deep in the Holocaust Memorial, Brandenburg Gate, Parts of the Berlin Wall and a surprising sign, Checkpoint Charlie, Cooling her bites at the foot of Neptune.
If you do visit, I can recommend the i31 Boutique Hotel. All staff were very helpful and friendly, especially when Julie was ill. About those vicious biting insects: waking up in the dark hours of early morning to a sobbing girlfriend scratching the life out of red swollen ankles, covered in hot, painful welts definitely puts a dampener on holiday vibes. Ice buckets and cold water and pharmaceuticals helped but it took a trip to A&E and anti-inflammatory and antibiotics when we got home to clear it up. Vicious indeed! We passed on the hotel breakfast, watching the pennies, and had superb coffee, juices and breakfast at Balzac Coffee Company Cafe on the corner of the same block as the hotel. Total yum.
It's difficult to visit Berlin and not witness the indelible stamp the war has left behind. It is different certainly from a local living with it everyday and a tourist actively seeking to visit the sights. Still, even if I lived there I would have to reflect if I walked past any on my way to work. I would like to go back and purposely see the modern Berlin, avoiding the references to war and see her through different eyes. I think she deserves that.
Below: Holocaust Memorial, Victory Column, Vintage street lamps in the Tiergarten and outside the Reichstag