You know how it feels to experience something completely new? Something so far removed from your normal life, so different from your ideas and concepts, so unexpected that you give up trying to anticipate what's coming and instead just let it all go? That was Marrakech for me. It looked like a shaky start when our pre-booked transfer had seemingly forgotten about us so we eventually put a call in to the hotel to summon another, obviously unaware the first driver was involved in an accident on his way to collect us from the airport. We dashed past puttering scooters, occasional horse carts and other slightly maniacal drivers weaving as furiously as our own cabbie. I kept eyes firmly out the side window rather than look ahead at what we might be about to plough into. A blur of copper, terracotta, ochre and umber raced along with the odd flash of green palm and the warm late-November air was heavenly.
After racing down the main road from the airport it was quite sudden to find ourselves driving through the Place Jemaa El Fna – the UNESCO-listed, colourful main square. Along the fringe we came to a stop after the driver had a stall holder move some of his wares out of the way to let us tuck the car into a tight spot and unload our bags. He then charged away down one of the covered alleys trailing off from the Square and we followed close behind as best we could. He was a man on a mission. We rushed past leather workers, butchers, cafes, markets, silversmiths and shoe shops – crammed to bursting with bright wares and guarded by smiling, encouraging gents – while motorbikes, locals and kids on bikes rushed by us.
Our driver darted down a darkened side alley and the din of life in the main alley subsided quickly as we trotted on, turned a couple of corners, desperately trying to work out if we should have left a trail of crumbs to find our way back out before we were ushered through a low door and into a clean, white-washed courtyard hung with lush carpets, a large fountain with rose petals, comfy chairs and a cool, calm hush. We had arrived at our hotel – Riad Palais des Princesses – a former royal residence now boutique and lovely hotel with an unbeatable location. We were greeted with mint tea and cardamon biscuits while we completed our registration cards. It was a much appreciated and refreshing welcome.
We stashed our bags, dressed into lighter clothes and gave the resident cats a last pat before heading back out into the organised chaos and din with map in hand. It was next to no use most of the time with the labyrinth of tiny alleys barely raising a hint of a feint line on the map in the older parts of the city. The precious few roads named on the map were major so you knew if you'd landed on one of them, otherwise it was largely a case of following our nose, gut instinct and a thankfully central location in a thoroughly walkable city.
We headed further down the main alley – Rue Riad Zitoun El Kedim (which must be painful to type into a sat nav) and popped out close enough to the El Badi Palace. Built at the end of the 16th century to celebrate victory over the Portuguese in the Battle of the Three Kings, the Palace is part of the Kasbah district that rocked! Nowadays it's a vast open and enchanting ruin of fruit trees dug down below the main walkways, surrounded by very high mud walls, inhabited by storks and their large nests, it has a great terrace for views over the whole city, an art exhibition space and laconic security guards, surely poised should someone try anything. Mostly they were interested in guarding the minbar. I know, I thought it was a fully stocked minibar with expensive gins too…but it's actually a 12th century, elaborately carved wooden flight of steps used as a platform by the preachers in the also-12th-century Koutoubia Mosque that overlooks the El Fna Square. It's huge and I can't imagine anyone being able to walk off with it, so they mostly stuck to watching you to make sure you don't take any photos.
Back out in the sunshine and we ranged high and low over the ruined walls and in and out of rooms once frequented by Sultans and Kings of many centuries ago, when the palace sparkled with gold and other expensive materials of the time like onyx. Like so many of the places we visited, inside the walls the noise of the city just melts away and it's an oasis of calm.
Back out to that noise and life we headed west hopefully in the general direction of the Saadian Tombs, eventually found by darting through a carpet and tagine pot shop quick enough to evade the shopkeepers with airy promises of coming back later to check out their wares and emerging into tiny alleys dog-legging left and right until we finally came face to face with a long high wall and a photogenic minaret. This wasn't the Tombs but it's pretty spectacular nonetheless – the Kasbah Mosque – restored in exact detail after an explosion in 1569 it is square in shape and crossed by 11 naves, making it one of a kind.
Following the wall around we found the rather discreet entrance to the Saadian Tombs and went inside. A lovely garden of rose bushes and fruit trees, mausoleums with intricate decoration, tiling and reverence. Dating back to 1578-1603 but only re-discovered at the start of the 1900's, they house the bodies of about 60 Saadians including the El Badi Palace builder – el-Mansour and his successors. While strolling we glimpsed our earlier taxi driver wandering – rather more sedately this time – with his family around the gardens.
Climbing to the top floor terrace of the Kasbah Cafe across the road we enjoyed the views of the life on the street below, the glowing red minaret of the Koutoubia Mosque and enjoyed more mint tea and a vegetable tagine for lunch. Just as we were starting to feel our muscles stiffen up from sitting down we were on our way again. Julie had a moment with an elderly, round-backed lady when she gave her some coins and her face crinkled into a wide, grateful smile. Sometimes you find the smallest interactions can live on as the most treasured memories.
This was highlighted again quickly as we were engaged in conversation by a local man who had been educated in London in his earlier days, while marveling at the ornate Bab Agnaou – one of the 19 magnificent city gates built in the 12th century. We may have been heartily encouraged to come back and see his brother's spice shop but not forcibly enough to eclipse the warm sincerity of our conversation.
We kept the red minaret in sight as we walked the roads up to the Koutoubia Mosque then crossed with the locals because there was no way we would have worked out when to stop traffic ourselves and entered the gardens that flank the mosque. Completed in the late 1100's (no, I'm not sure there is anything remotely modern-built here) it is a Sunni Islam mosque and when lit up at night is a piece of art-chitecture. The forecourt out front was alive with families and kids and a friendly atmosphere. We headed back to the main square, again waiting for the locals to basically run decoy so we could cross the road.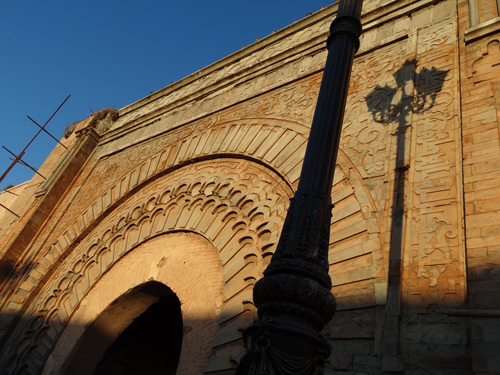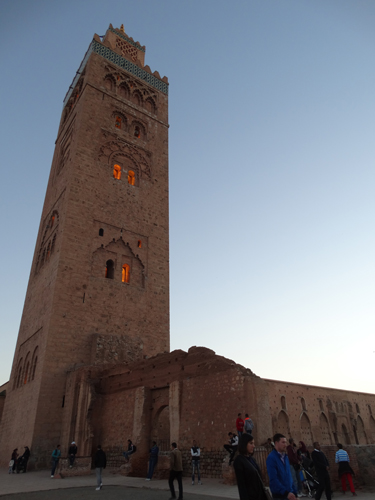 Our pace quickened past the many horse-drawn carts as the recently-relieved horses created quite the stench and we cut through a little park and past the post office. The market stalls were all brightly lit on the square offering food and juices, mint tea and pastries. We dived into the slightly organised market stalls, tiny cubicles jammed full of robes and dresses, football kit, shoes and bags. I have no idea how any of them survive with the intense competition either side. Julie drew attention in her Manchester City shirt and the stall holders jump on anything that may give them a chance to engage you in conversation. It was a bit like window shopping on fast forward. Keep walking, don't show interest unless you REALLY want it, decide how much to pay or walk away…and be prepared to say "no" a lot.
Finding our way back out into the square we made our way to a cafe on the fringe for coffee and pastries as a night cap in this dry city. What wasn't on the menu was a curse from a gypsy girl when we didn't have anything to give her. Of course we had no idea what she said as she morphed from poor weak beggar to cursing little witch but the waiter was on her so quick and scolding her before we had a chance to reconsider. We didn't have any inexplicable misfortune during the trip so I don't think her spell worked. Finally overcome with the reality of a very long day and so much to tantalise the senses, we turned down Rue El Kedim and miraculously found our Riad in the now much darker maze of alleyways. Our room – called Laila – was simply stunning, the bath a very welcomed relief and bathrobes soft. Sleep was deep and good.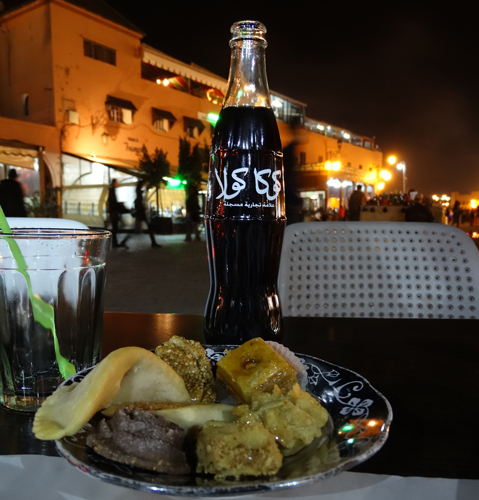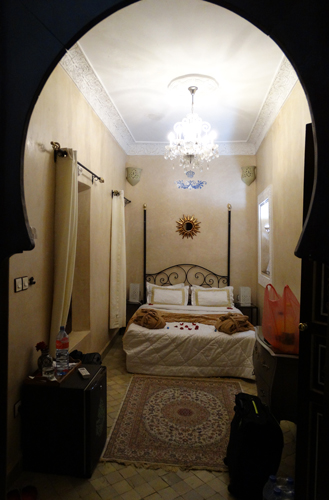 After one of the best buffet breakfasts we've had away from home we were collected for a trip to Essaouira (named Mogador until the 1960s) and followed the rep out the back door of the hotel and around countless corners and back alleys towards the less crowded outer ring of the Medina to be loaded with our fellow day trippers on mini buses. On the collection run through the city we had a few stops in the newer and pricier part of town, Gueliz, which with its much wider avenues and large modern houses and shopping malls, looked like a completely different world from Marrakech.
No organised day trip is without some stops along the way such as popular roadside cafes with parking just for tourist buses, trees with goats in them and ladies argan oil cooperatives. The tree goats are real though I can see why you might not believe me when I tell you they look completely at home perched on a scraggly branch.
The Manjana Ladies Cooperative is where we learned about the production of argan oil, its many uses and were shrilly greeted by the Berber women cracking the nut shell between stones somehow without crushing their thumbs. We all know how much luck I would have coming out without swollen thumbs a bright shade of red had I tried.
Once in Essaouira we were given free reign for a few hours to explore this ancient and charming port city with settlement evident since prehistoric times.
The 18th century fortifications and ramparts are impressive and the fishing boats crowded into the harbour are brilliant blue against the desert coloured stone. Fishermen mend nets, cats clean up the scraps and seagulls cry as they dip and dive in the strong winds off the ocean. Dutch cannons from The Hague built in 1744 still point out to ward off invaders. Tucked into round dugouts under the deep wall is an art market with artists, potters, painters, leather workers and silversmiths show off their wares created with great skill.
We had lunch at a seafood restaurant – il Mare – with a roof terrace overlooking the ramparts and waterfront. With the sunshine, sea breeze, salty air, sublime local olives, bread and oil to go with the Mogador wine (not a dry city, hahar!), we managed to spend a goodly portion of our time watching the families traipse the harbour scala and cats not care about the birds. Back at ground level we stopped by a leather shop and Julie spotted a bag she liked…it kinda went downhill for me here as I'm never going to get comfortable with the whole haggling routine, the shop owner wasn't budging and I was suddenly aware of the time and needing to get back to the tour bus. On the way out we took in more of the architecture and public square and in the setting sunshine, rejoined the bus…as the last ones on. Well, at least they didn't actually leave us behind.
The trip home took decidedly longer than we expected…and it may or may not have been our fault, however I'll claim that since we're not locals, why would the driver rely on us to know where we were…he's the one driving! We'd been asked where we needed to be dropped off and said the main square…apparently at some stage of the trip home we in fact did pass by the square, but with the architecture all looking rather the same late at night, the thousands of people out on a Saturday night adding to the confusion, we didn't know we'd missed our stop until we were zooming away from town to the more remote tourist camps. Part lost in translation, part not wanting to interrupt the speeding driver, part sitting quietly towards the back of the bus and part not realising the other tourists in the bus weren't staying in town we'd arrived at their remote tourist camp – which must have been on the way home for the driver – before the driver realised we were still on the bus. Hands in the air, head in hands, pained facial expressions and a speeding trip back to the main square and I felt reeeeeeaaaaally uncomfortable. We got to the outskirts of the square and the area was teeming with locals and completely unrecognisable to me. It could have all been avoided had the driver made notes on how many people needed to get off at each drop off spot and also pointed out how to get our bearings. Clearly, relying on  foreigners to know how to identify where we are after a long day, at night, from an angle we've not seen and from inside a mini-bus does not a smart move make. Oh well, my tears of relief-mixed-with-feeling-like-we-were-in-trouble-for-making-the-driver-come-back couldn't be stopped and I think I even hugged the driver after apologising many times. He pointed us back to the more familiar streets and we blended into the swarms to be carried back towards Jamaa El Fna towards furious drumming from pockets of musicians surrounded by onlookers dotted around the square. The whole place was buzzing!
Our final day started with a sleep in before stepping out towards the north of the Medina through the ancient, beguiling and utterly confusing souks. You just have to follow your nose, your gut instincts and a compass would probably be a good idea. There is some organisation within the alleys with areas for the leather workers, metal and tin smiths, textiles etc all separated. We would be back to haggle later, for now we were on our way to La Madersa Ben Youssef – the biggest Koranic school in Morocco built in the 1500's. The entry was a simple opening along the alleys and I only realised we were in the right place because it looked interesting from the outside. A few dirhams to let us in and we walked along hallways, peeked into the bedrooms of sometimes up to 900 students, crammed into tight spaces, marvelled at the intricate woodwork and decoration adorning the couryards. Over two floors the rooms surround a large and airy and very peaceful courtyard with the sun beaming down over one side, lighting up the small doorway. With no windows or views to the outside world to maintain the rigours of focused study it is a lovely, quiet place for contemplation.
Back into the fray we decided against the tanneries (for fear of losing breakfast) and headed to Zaouia Sidi Bel Abbes instead. Sidi Bel Abbes was a 12th century saint who became famous for helping beggars and the blind. Even today the calm bright patio areas are lined with such folk and visitors give what they can to help them through a charity set up to distribute evenly what donations are received. On hand and without encouragement or introduction we had a local point things out and try explaining the various aspects of the building in his best efforts at English, which would have to be his third language at best after Arabic and French.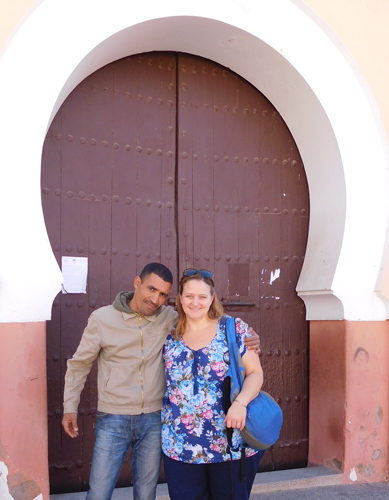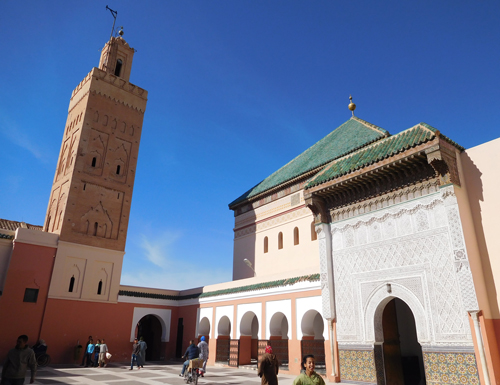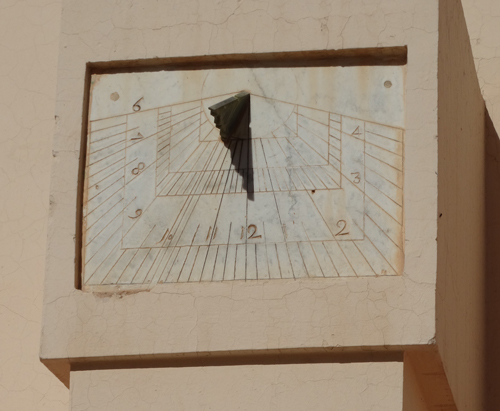 Turning south we headed into the souks for a spot of shopping. On the way there we stopped in an alcove to discuss strategy – what code words to use if I felt anxious or comfortable, guide prices we'd happily pay for bags and shoes and braced ourselves as we entered. It was a lot better than I feared and with the chance to sit and have some mint tea while watching the bustle of life in the heart of the souks was one of those times that make you happy to be alive and able to experience the different cultures and lives in the world. Motorbikes and scooters rattled up and down even though surely it would be easier to walk than to try dodging pedestrians and strays. It felt like everyone knew everyone, everyone had a place and a purpose all synchronising perfectly while packed tightly together.
As for the shopping adventures, Julie had to work hardest for our bags and shoes. In the end it would appear the stall holder asks for at least twice what you could end up paying. We have two camel (well, maybe) leather handbags that will change colour if we rub more vegetable oil into them from a hard bargain at Chiki Imad stall. We've also got 2 pairs of lovely leather shoes courtesy of even harder haggling with two stall owners playing tag team. In the end we're very happy with the quality of our goods and for prices cheaper than you'd pay for similar over here and you know they're local. On our way out we picked up two tin and coloured plastic tea light candle lanterns now sitting prettily on our mantle, picked them up for a bargain 40p each.
We soaked up the sunshine on the roof terrace of our hotel with the noises of the Medina and calls from the mosque for afternoon prayers painting a different picture of life from the usual road noise at home. To complete the relaxing part of a very busy weekend we indulged in massages at the hotel getting throughly slippery with Argan oil.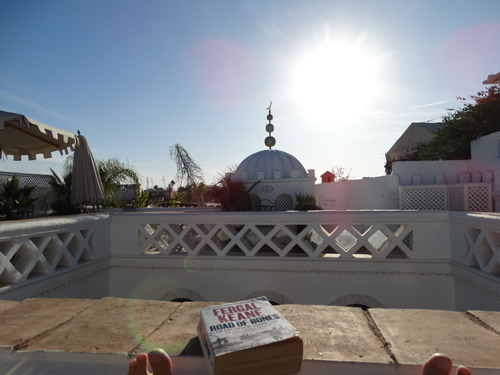 Dinner followed at Taj-n Darna restaurant with tables upstairs, affording a wide view over the square with its juice stalls and lantern sellers. It was almost empty when compared with the previous evening giving everyone a lot more breathing space. We ventured back into the square for one last turn and gained the attention of a French-speaking drunk (How? Probably not by consuming something that's nice over ice mixed with cola) who desperately wanted my phone number. As I don't speak French it took a concerted effort and plenty of following us around the market, finally pulling out his phone and shoving it in my face and just about saying "Your number!". I think. I said I didn't have a phone but it made no difference. We ended up back at stall number 45 for a mixed juice and the strapping stall holders gallantly came to our rescue and chased the lingering drunk away. It's amazing who will want to know you when you're wearing a Manchester City jacket.
It was a short morning before we were back to the airport for our flight home. The square was already awake for the day's trade and noise and hustle were building. It was a sincere thank you we gave our driver when we got to the airport added with a genuine declaration that he's a citizen of a wonderful country.
And we really did mean it. Marrakech and Essaouira are only two cities in a thoroughly charming and exotic country which we definitely have in our sights for a return visit.