Before I embarked on this experiment to transplant my life as I knew it to the UK, Julie came to see my home, meet my friends and family and learn what and who had helped to shape the course of my life thus far. It may have also been a ploy to visit a country she already loves and to make sure I got on that plane back to London Heathrow.
With a month at our disposal I planned to make the most of the glorious October Spring weather, visit as many friends and my favourite places possible and some I'd never seen. Coupled with the Central America tour group – including Guatemalan tour guide dropping in for his birthday – it was a heck of a road trip through four States and their capitals, mountain ranges, two wine regions, east and south coasts, international landmarks and isolated country roads. Australia really does have it all.
After a few days at home we hit the road north, to my favourite beach – Marcoola – on Queensland's Sunshine Coast. I like that it's a family friendly community beach without the glitz and sham of some of the more famous beaches along the coast, it's fairly quiet and there are no souvenir shops. I volunteered with the local Surf Lifesaving Club here so I have spent many hours on its golden sand. After visiting my old surf patrol team on duty we continued on to Coolum to visit excellent friends for lots of laughs and an impromptu screening of Mamma Mia!, projected on a wall in the courtyard while we spread out on an inflatable bed. The only cinema that had more stars than Hollywood.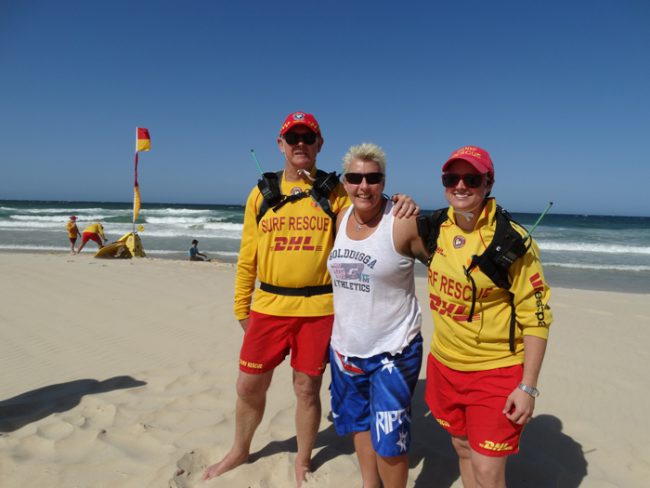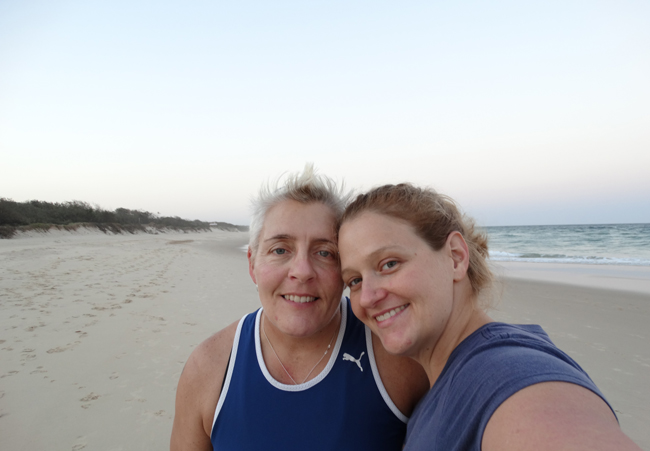 After a pitstop back in my hometown Brisbane, we were on a plane south to Melbourne, Victoria. Catching up with friends made on our trip to the Galapagos Islands, Marie and Paul, we were treated to amazing hospitality, tour guiding and fun as we had a girl's road trip with Marie at the wheel. We took a walk around the boardwalk at Wilson's Promontory to be buffeted by the wind whipping off the Southern Ocean and see seagulls making a meal of an unfortunate seal pup. Still, the scenery was beautiful even with the carnage.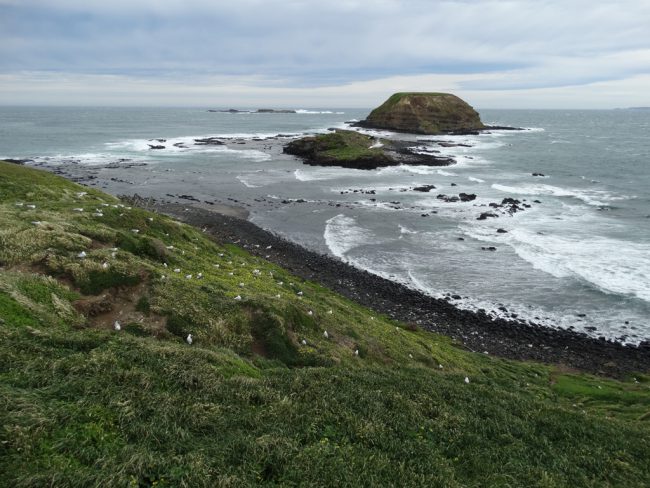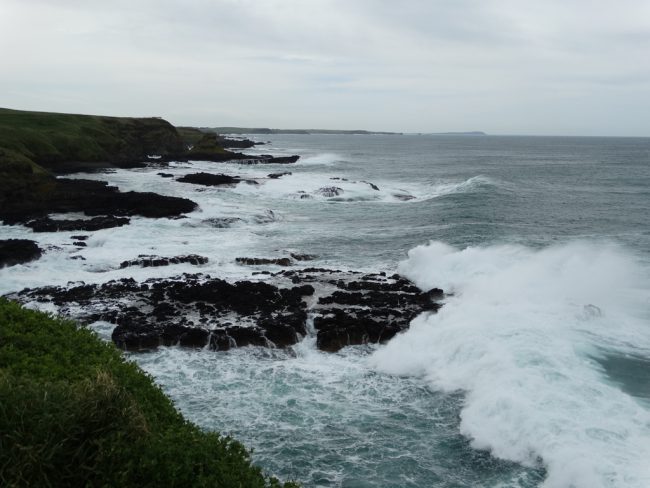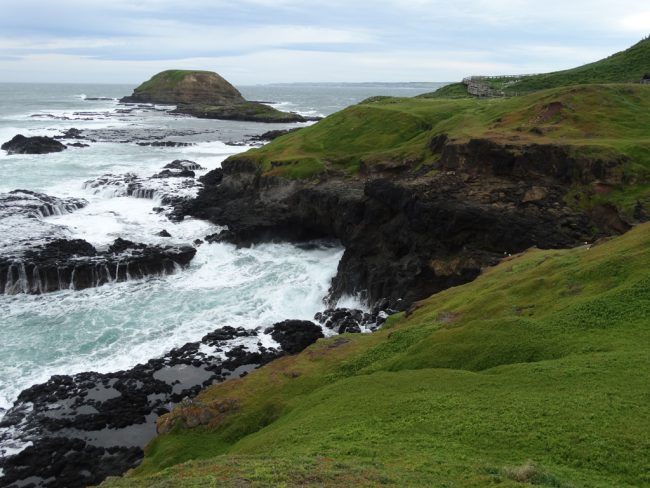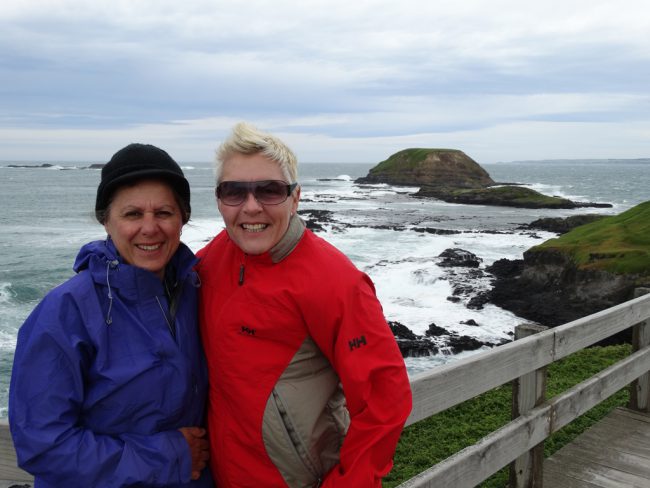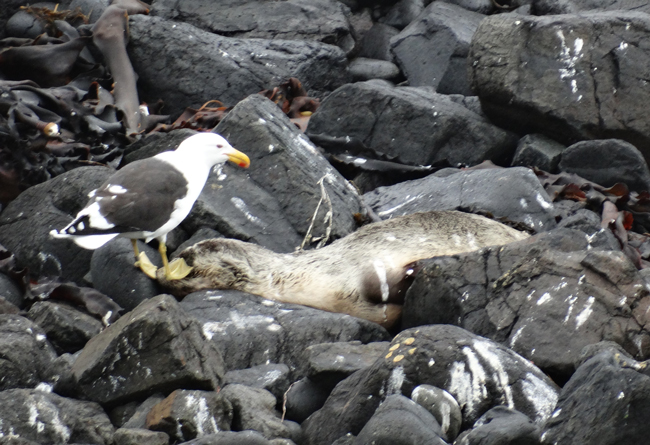 Over to Phillip Island for the evening Little Penguin parade, a magical spectacle as the creatures are washed ashore and then make a dash to the shelter of the low bushes and their burrows. Their little squawks and calls to each other, waddling with surprising pace kept us captivated in the darkening cold. We walked along the boardwalk above the burrows, watching them make their way home as we left, our faces lit up with the marvel that is Mother Nature. She never fails to impress me.
Another highlight of our time in Victoria was meeting a friend of Marie's who took us into her beautiful home, with her adorable dog, amazing dinner, warm heart and private gym workout session the next day. There are some truly wonderful people in the world who have a great capacity to take in strangers and make instant friends. Thank you so much for your hospitality and leading us to a great winery – Montalto.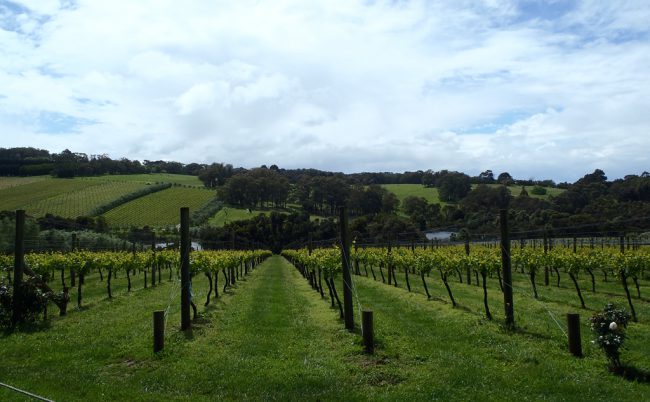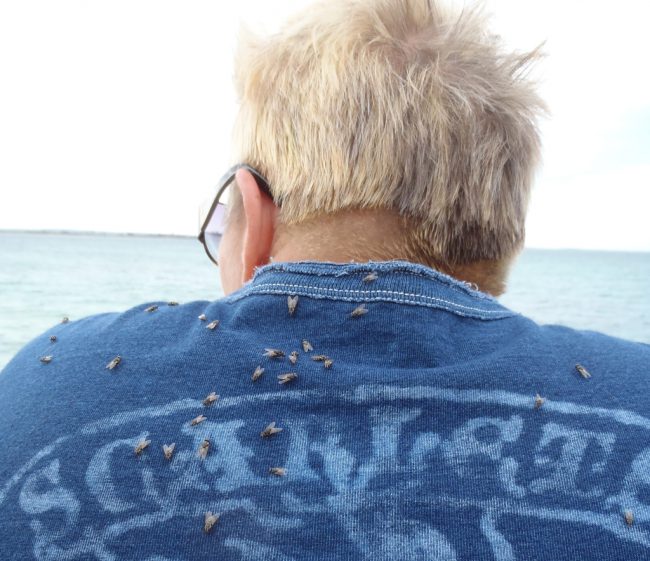 Back in Melbourne we got to catch up with good friends made on our travels at Federation Square, one of Melbourne's more striking landmarks. It's such an interesting city.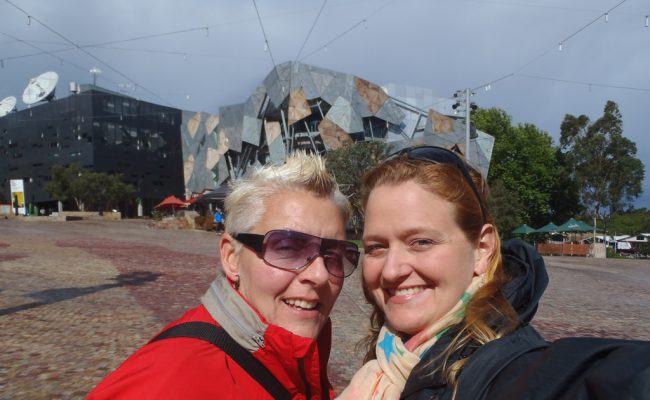 Of course Melbourne is near the start of one of the world's great road trips – The Great Ocean Road. As an Aussie I'm a little ashamed to say I hadn't traveled it before, though Julie would clock up her fourth time on this trip! We were blessed with sunshine and views forever, fresh air, crashing waves and kangaroos on golf courses…even a koala by the side of the road who we're glad to say made it to the safety of the trees and didn't become a road kill statistic. We stopped as often as we could to take photos, soak up the views and enjoy the journey through Anglesea, Lorne and Apollo Bay. And thank goodness for the road builders and their lay-bys to make safe stops along the rugged coast.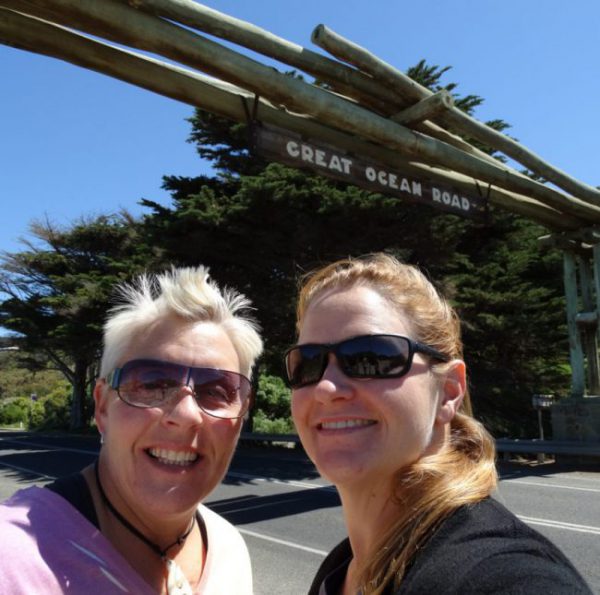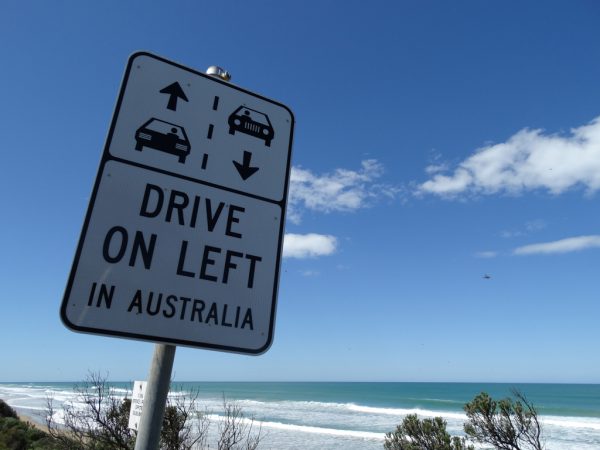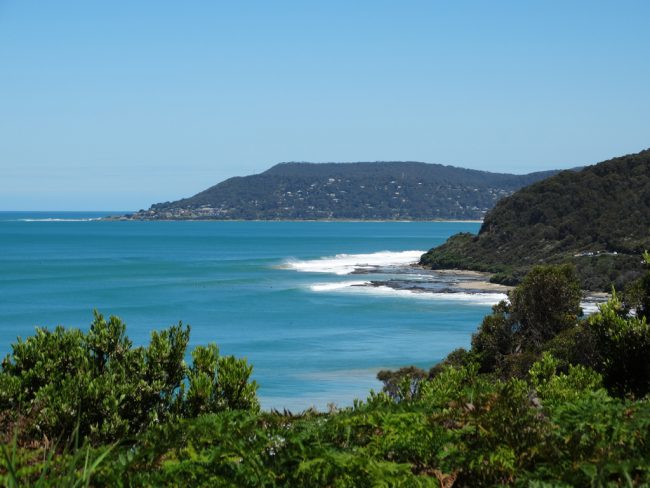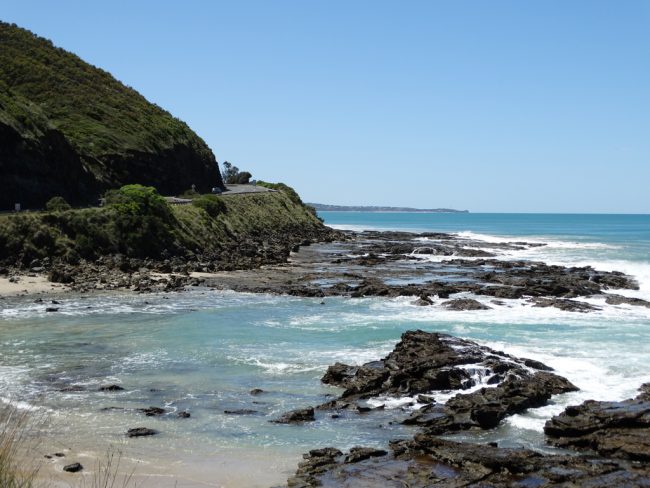 Is it irony that the Great Ocean Road veers away from said ocean to wind through the Great Otway National Park on Cape Otway and there is a distinct lack of waves, replaced by forest? Either way it was a pleasant stop at Maits Rest Rainforest Walk in the heart of the flora and fauna reserve and the grand old trees could put anyone feel at one with nature.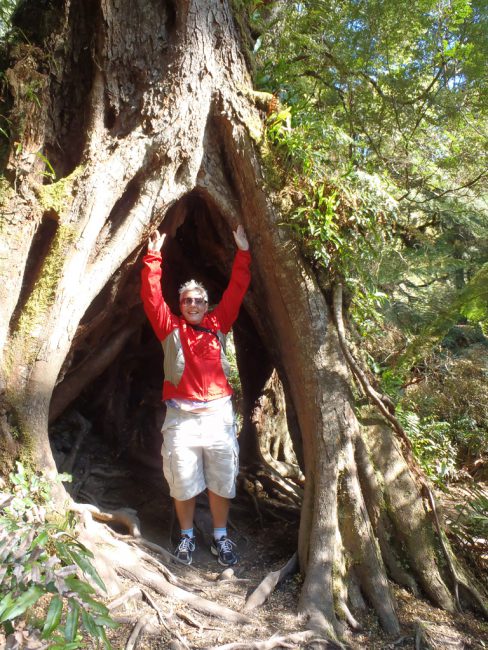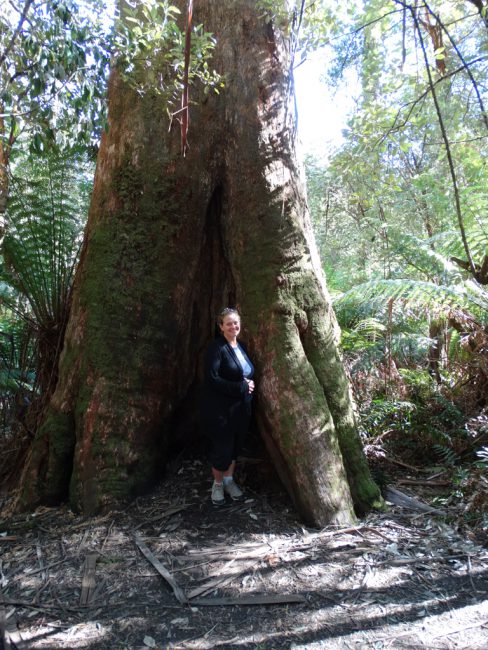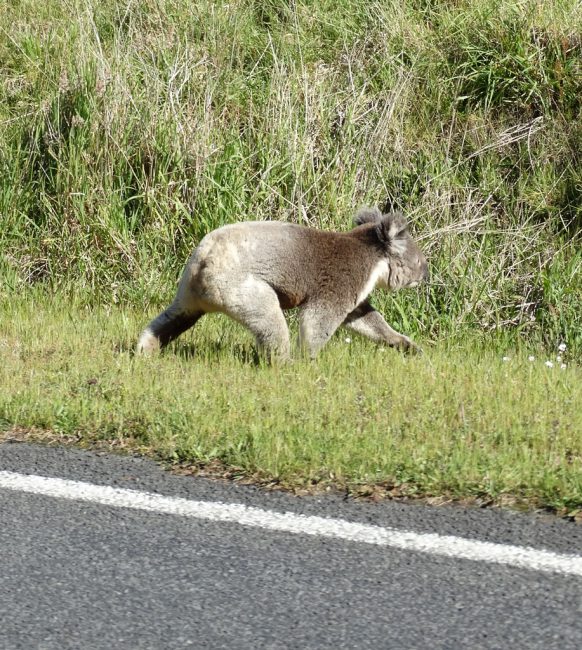 Our first night was at the lovely Port Campbell Hostel, letting us spend the sunset and moonrise with the Twelve Apostles. I can confirm it's a sight that's as pretty as the postcards, especially with the sun sinking into the sea and drenching the rock in a warm glow.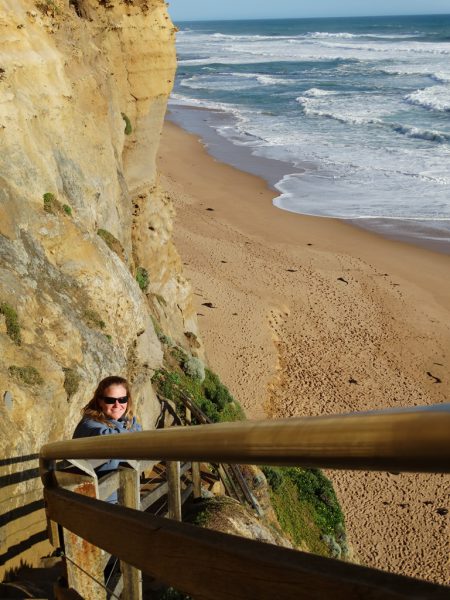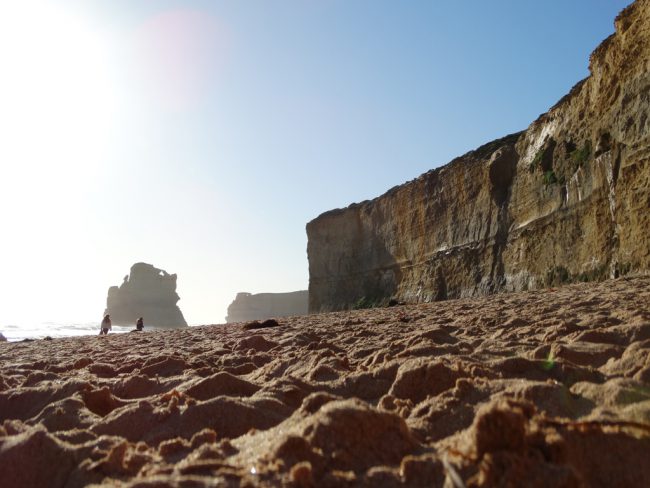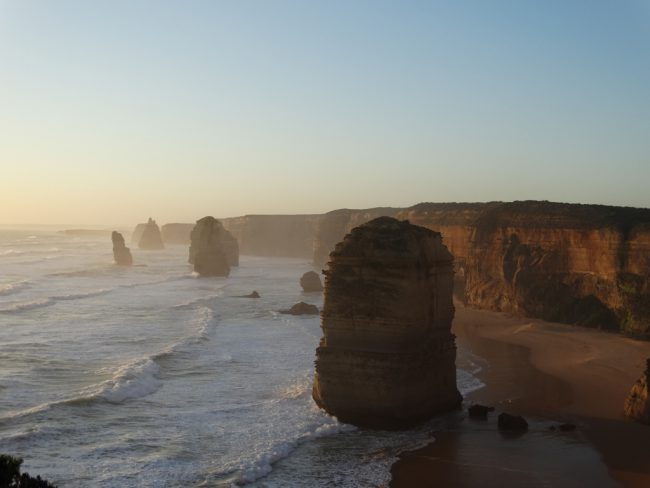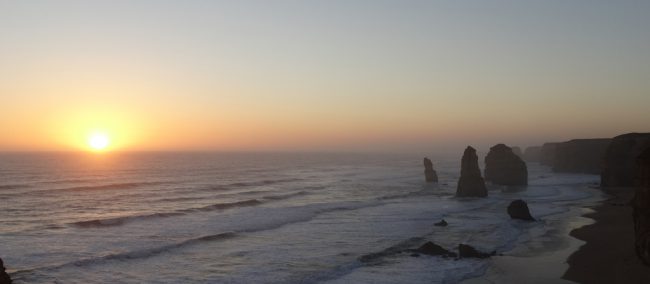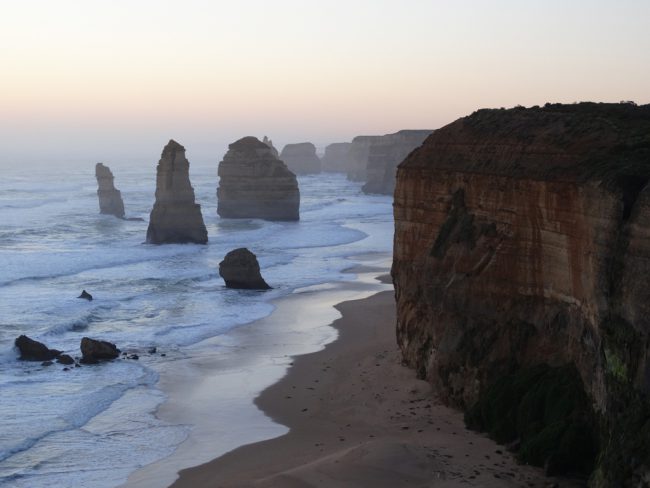 The sunshine continued the next day for our stops at The Arch, The Grotto, London Bridgeand the Bay of Islands National Park. The climb down into the Grotto was particularly memorable for me, being able to get closer to the water, frame so many great photos and play with all the angles, it's a very beautiful outlook.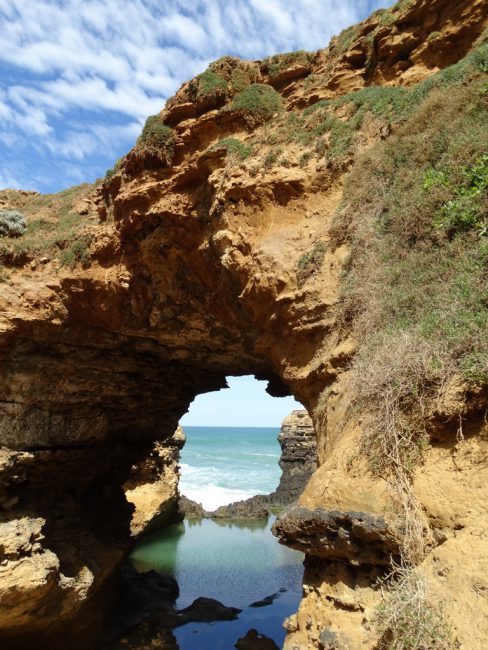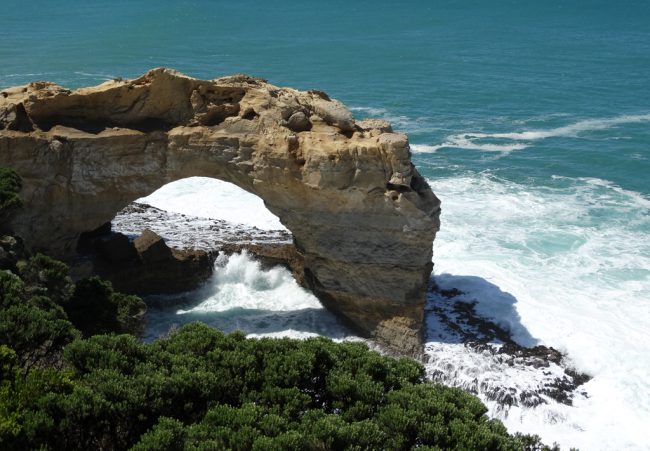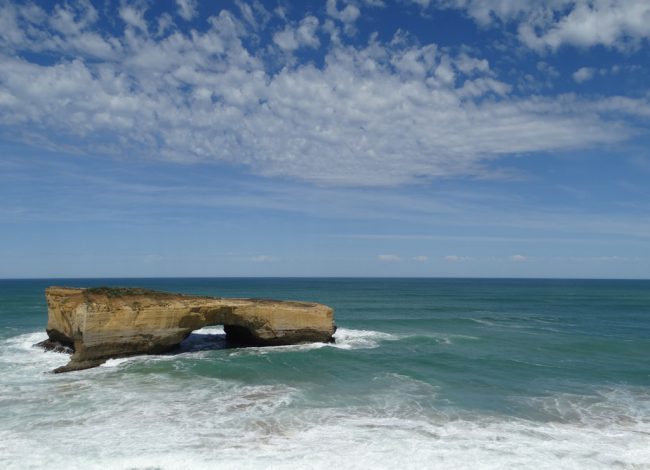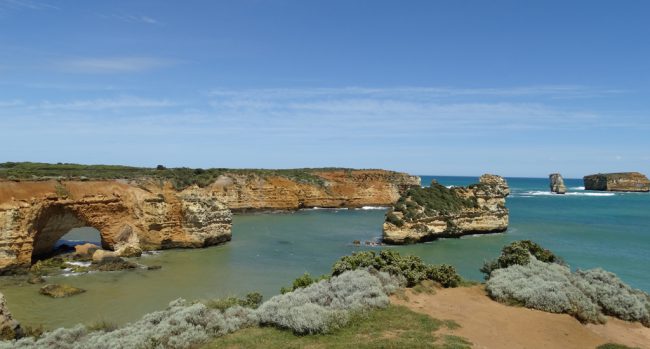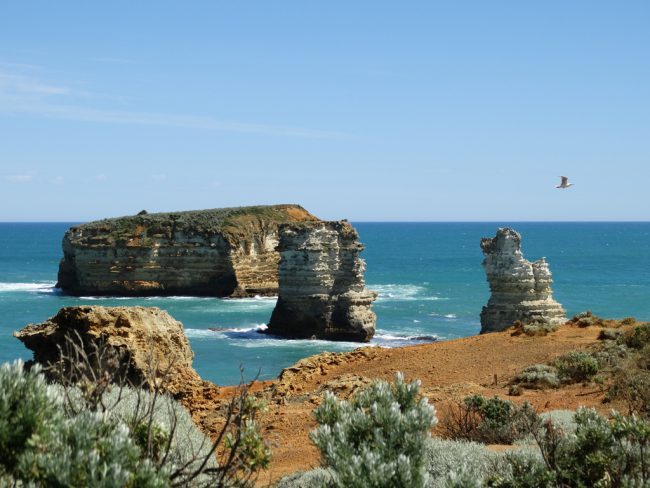 As we headed inland into the Grampians and turned away from the coast the landscape changed fast. Waves were replaced by wide open fields, windmills replaced lighthouses and the wind off the ocean calmed to a gentle breeze whispered among the old gum trees.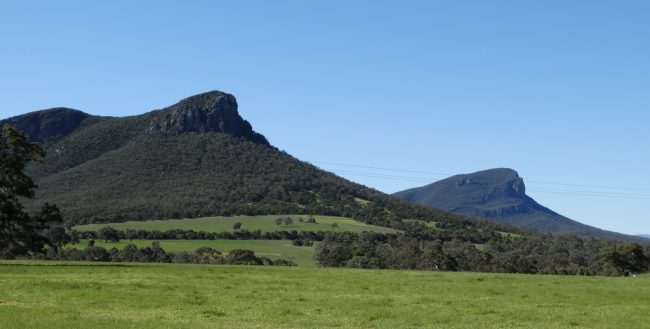 At Halls Gap we were treated to a local cricket match with a unique bunch of deep outfielders in the form of a large mob of kangaroos. Mums and joeys just hanging out on the field and not taking many catches. Only in Australia.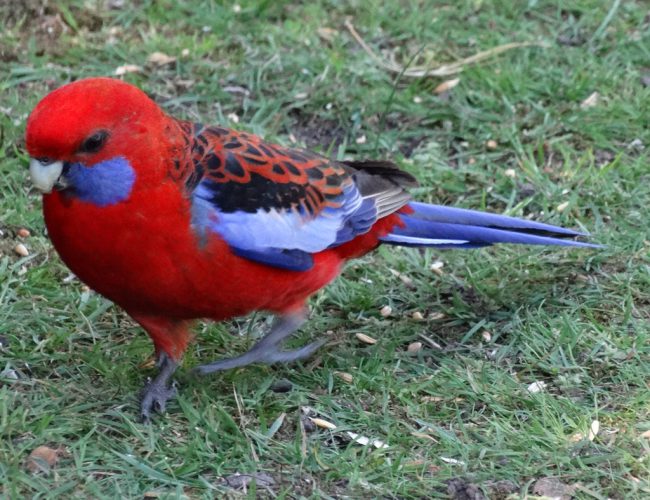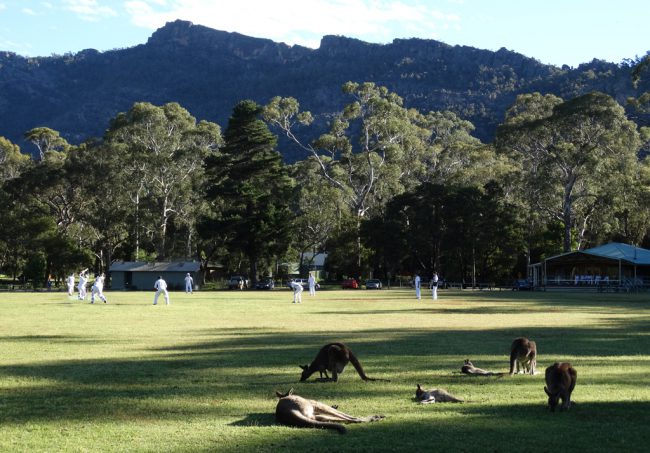 During our journeying around the Grampians we cooled off with a dip in the National Park, sent our gazes for miles and miles across the green trees and mountains and got up close to ancient Aboriginal cave paintings.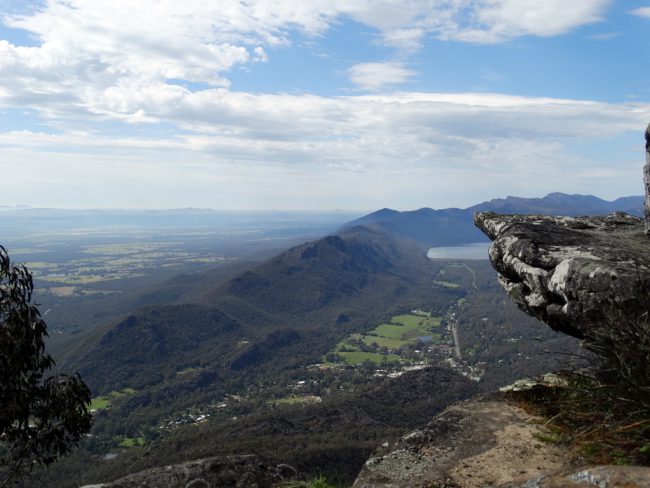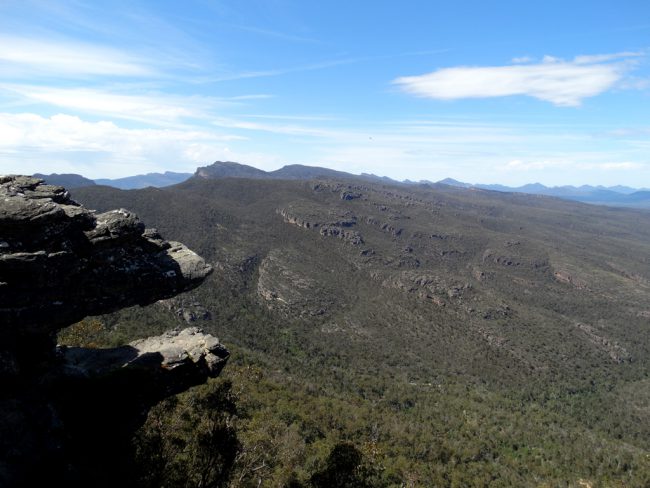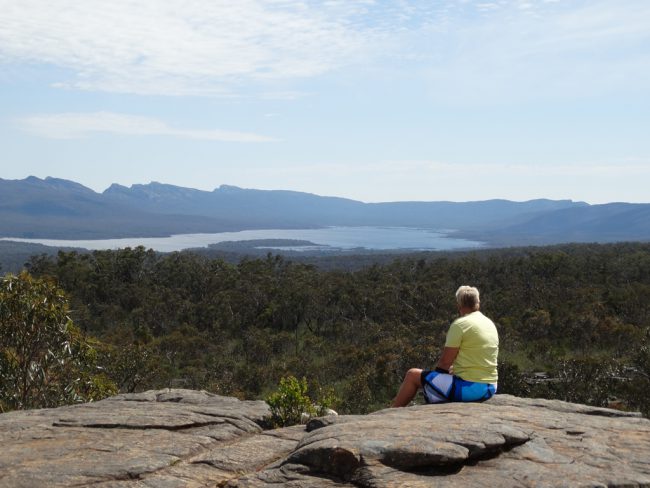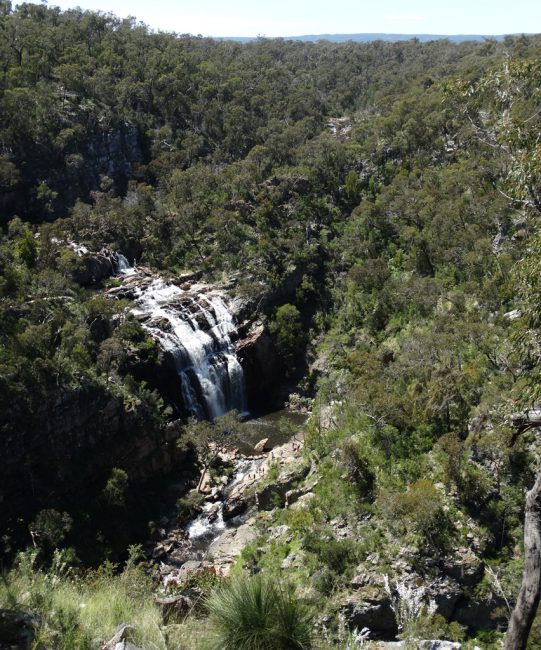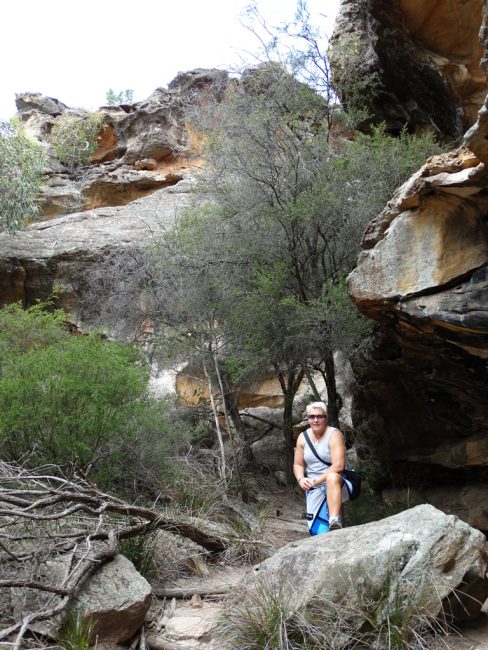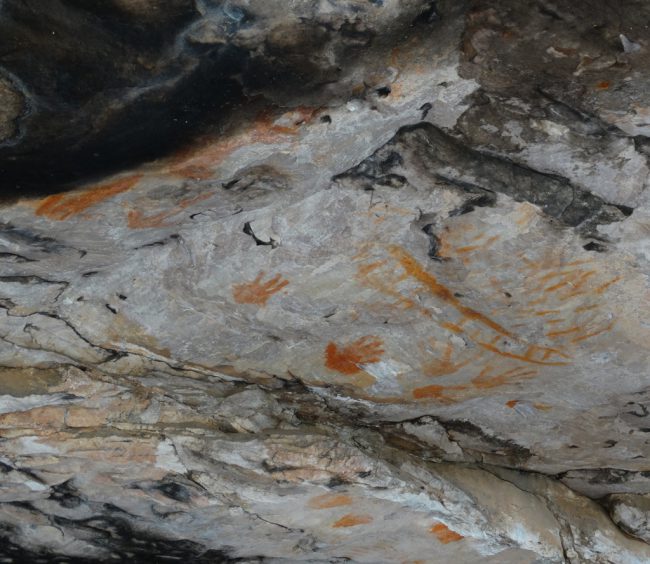 Descending from the mountain range we continued to an overcast Mount Gambier, though we have no idea when we crossed the border into the third state on this whole month's tripping around, South Australia. You know you're in a country town when the price of your room gets you a monster size suite and massive bathroom including a jacuzzi. Here's a tip for new players – don't put liquid soap into the jacuzzi. And work out how to turn it off before it becomes an issue. We had bubbles nearly reaching the ceiling before realising there was no timer on the jets and that pressing the on button also makes it stop. Made for lots of laughs and the champagne tastes even better when you're fighting back the foam.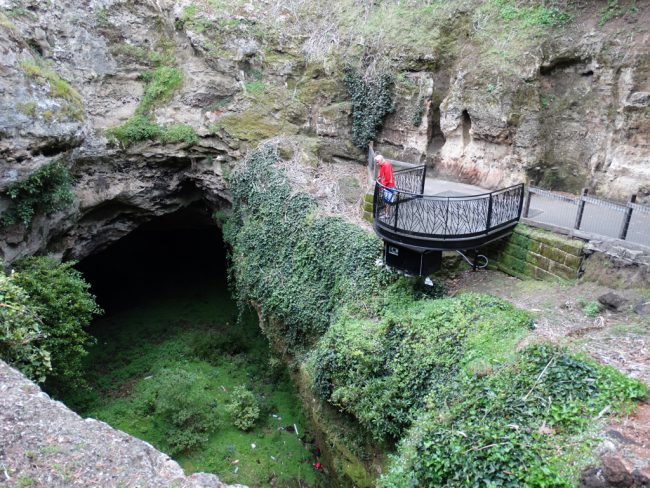 From Mt Gambier we headed for Adelaide, via Hahndorf, a charming town full of character influenced by the early German settlers. The panoramas along the way unfolded in every direction as we found our way to Gillian's house for the next few days. Our stay included a trip up to Jacob's Creek Winery for a sumptuous lunch, obviously perfectly paired with just the right wine. It was a special experience to spend time with such treasured friends, singing Chicago show tunes in the car and Peppa Pig on repeat…those adorable kids are growing up too fast!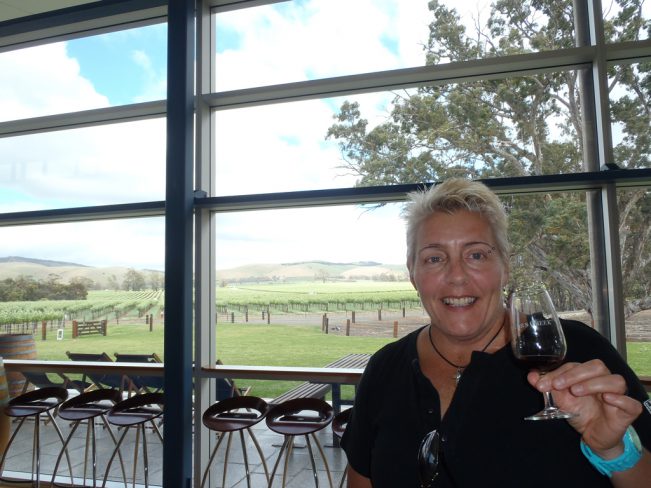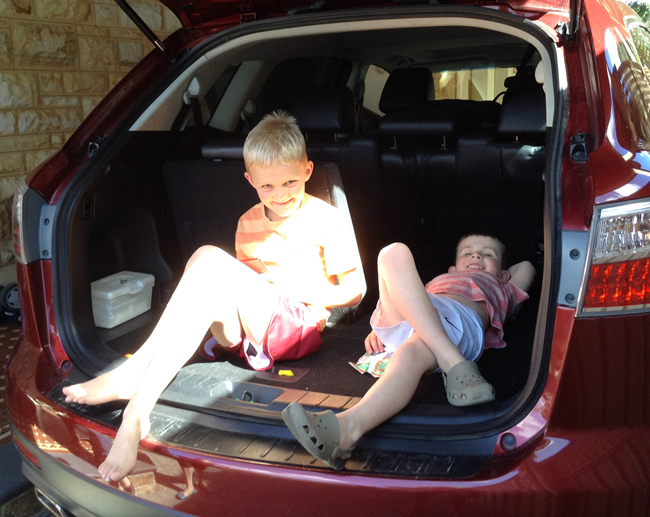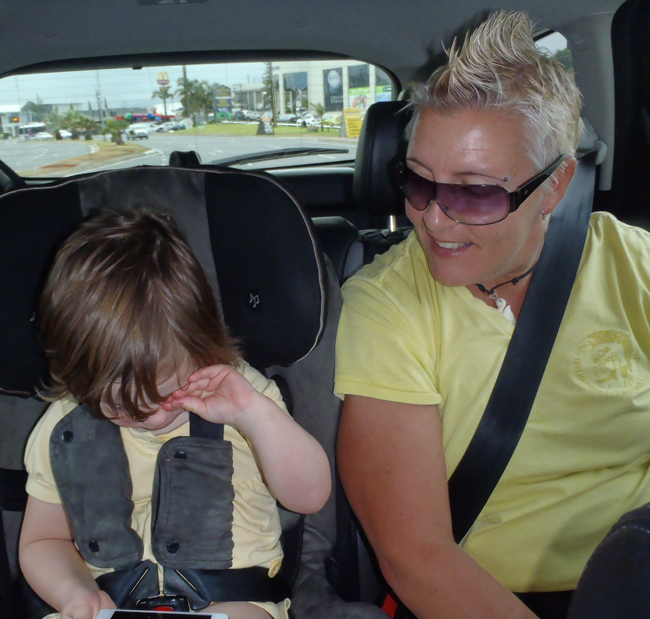 Onto our fourth and final state with a flight from Adelaide to Sydney, with the added bonus of being picked up from the airport by Matt and Ernie, our Guatemalan/Belizian/totally awesome tour guide! Once back at Matt and Beda's house, the reunion of just about all travellers on that unforgettable Central America tour was getting closer and closer. Dinner at their favourite Chinese restaurant and a good night's sleep were about as relaxed and tame as the whole experience would end up being…Some were up early the next day to climb the Sydney Harbour Bridge while the rest of us met them at Circular Quay later for lunch then the day progressed to the Opera Bar for overpriced drinks, deteriorating faster with rounds of drinks racked up on credit cards, darkness descending and a late night Macca's run which was perhaps the silliest part of all…that's what Julie will tell me made her ill…not all the mixed drinks! The long train ride, then waiting for a taxi to get back to the house and then regret all previous life decisions. It was probably the migraine though, more than the McChicken that really did the damage. Poor thing 🙁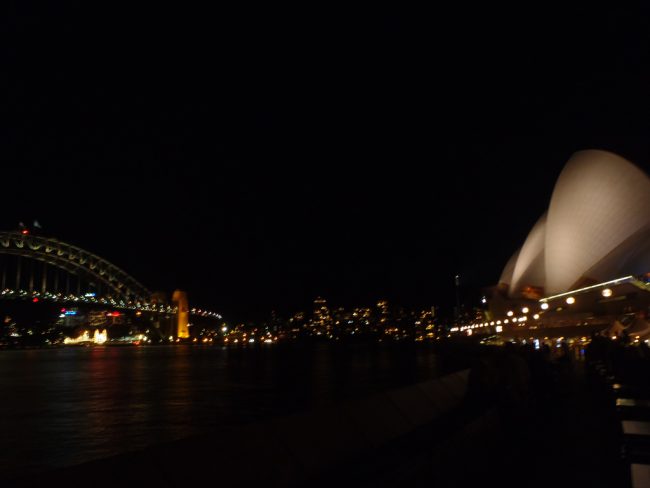 The crew swelled further the next day as we carpooled and made our way into the Hunter Valley, passing through Cessnock to pick up more bodies for the reunion weekend. We got to the massive house and claimed bedrooms and mattresses, stocked up the fridge with supplies and started a party that lasted longer than Ernie's grip on his dignity. You'll need to ask him the significance of the song "These Boots Were Made For Walking", or ask Beda if she's been able to wear her jacket ever since…? Throw into the mix a couple of Shaun's in their drizabone coats and six pack beers who had no idea what they were walking into yet still laughed the loudest and you can understand why the fry up breakfast the next day was like heaven on a grill plate. We drowned the hair of the dog at the Blue Tongue Brewery and several wineries, everyone doing their best to soldier on before the second wind kicked in. We then turned around and backed up with dinner, live band action and getting kicked out of a large pub when Ernie tried to pick a fight with a local dancing too close to his girlfriend…if only the bloke knew, she's really not his type. Having seen kangaroos by the road on the way in, the best views had probably been seen by that point and retiring home was probably not a bad idea anyway!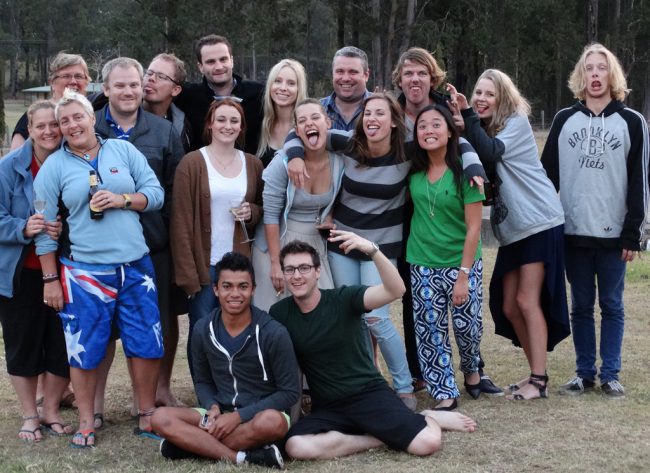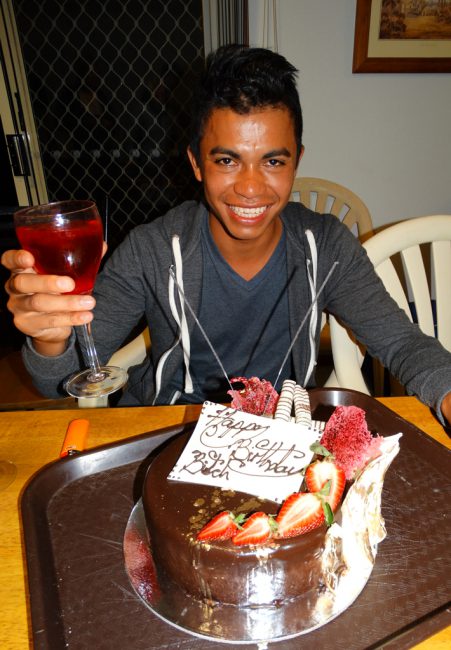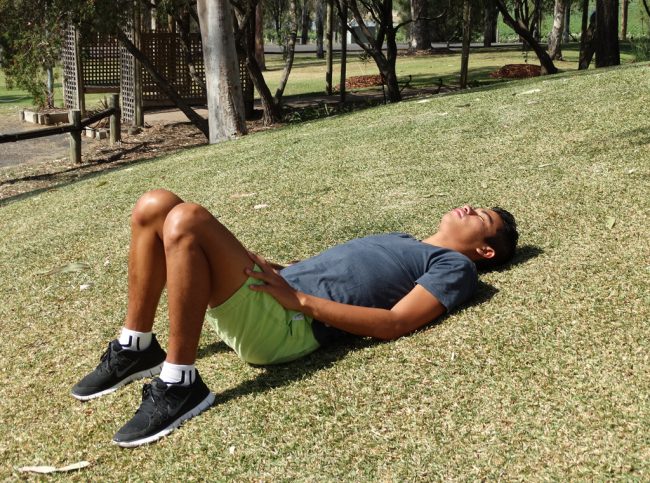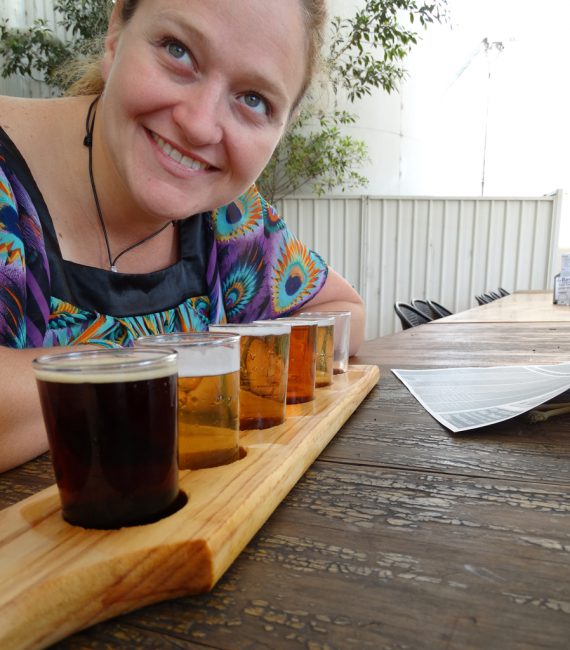 Breakfast laid on at the family house of the Hindmarsh's was delicious and we were all feeling a bit subdued at the prospect of returning to the big smoke and the end of a great reunion. When you're on the road, there's some people who you really click with and it makes all the difference for a memorable trip for all the right reasons. I for one can't wait for the next reunion! Big thanks to Matt and Beda for organising a wonderful experience and showing off more of New South Wales than just Sydney.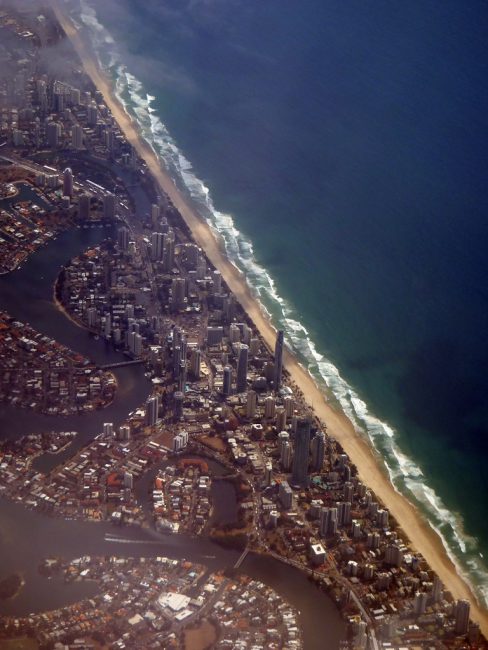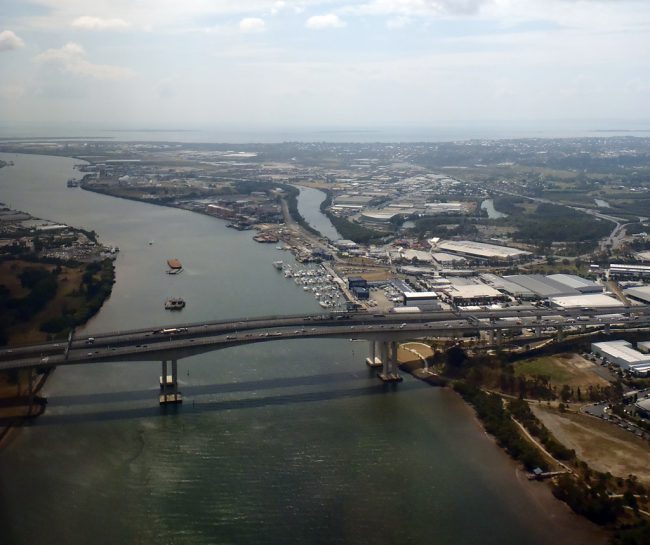 Back to my hometown Brisbane for R&R and quality family time…if you count signing up for a 5km Colour Run as R&R…at least it lived up to its name, colourful! A farewell party in town with my dear friends to say goodbye was the last hurrah and I'm really grateful so many people made the effort to be there. Big parties are hard places to have long conversations with individual people, and we always wish we have more time in so many ways. It was very humbling to see so many people there who cared enough to share a drink and a laugh when there is a long time until the next one.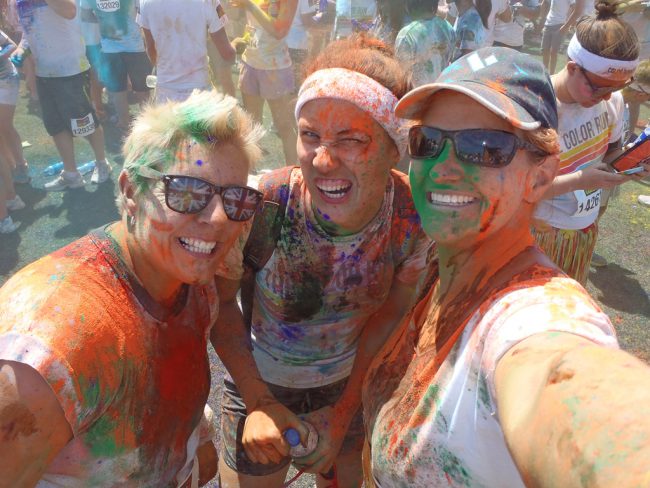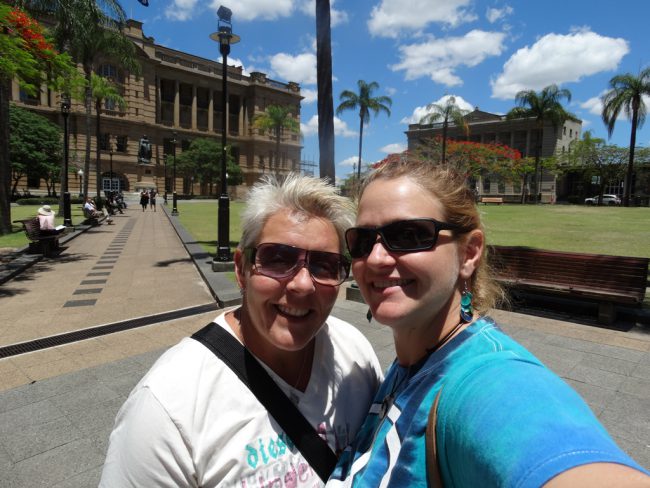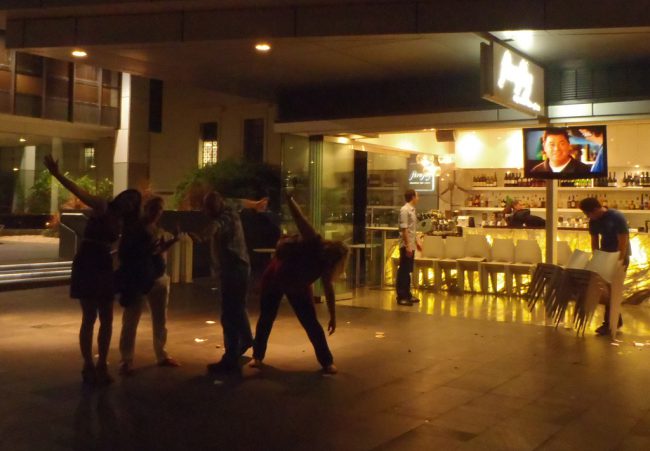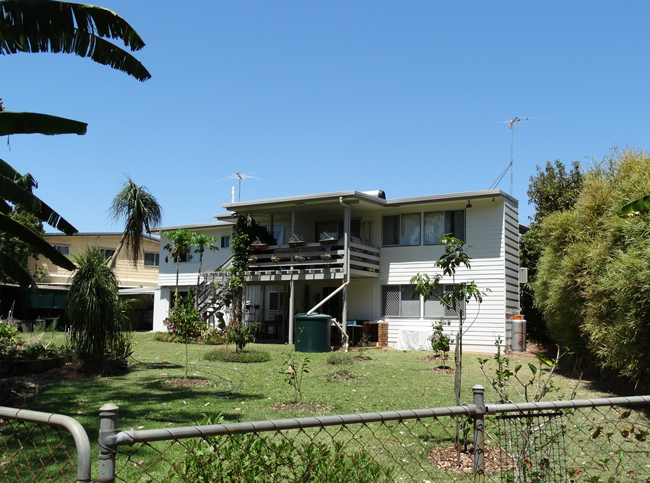 Especially cherished are the times we got to be at home, be with my family and spend time that was in short supply since I'd barely had three weeks with my folks since returning from my Americas trip. Coffee dates and the "normal" facts of life like doing the grocery shopping together became just as memorable for me as a big party.
We left Brisbane for London at the start of November and arrived in the freezing cold, bleary-eyed and zombieifed to the spectacle of fireworks for Guy Fawkes night, though let's just believe the UK was overjoyed to welcome us in.